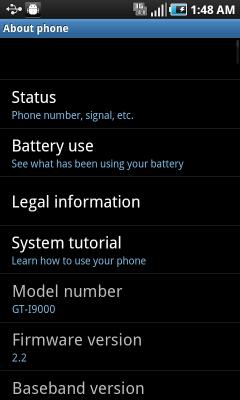 After the Beta versions of Android Froyo 2.2 for the Samsung Galaxy S was leaked, we heard news that the update will be brought out officially by Samsung in October. Now Samsung seems to have kept their word as tweets, discussion and pictures show users having the new update on their phones.
The update can be downloaded from the latest PC version of Samsung's Kies software. So far no changelog has been released and no users have reported on the update.
So those of you who have tried it, please share your news with us regarding the changes.
UPDATE : Official press release from Samsung
SEOUL, Korea – October 18, 2010 – Samsung Electronics Co. Ltd., a leading mobile phone provider, today announced the Android™ 2.2 (Froyo) upgrade to the Samsung GALAXY S, giving users access to new features, enhanced navigation applications and improved performance.

The Android 2.2 upgrade will be available via Kies, Samsung's unique in-house software upgrade program. Kies can be downloaded at the Samsung mobile website (http://www.samsungmobile.com).

The GALAXY S is Samsung's cleverly designed smartphone with a bright 4-inch SUPER AMOLED screen and a 1 GHz application processor, giving users an intelligent, immersive and integrated mobile experience. The Android 2.2 upgrade offers voice-controlled GPS through Google MapsTM with Navigation, faster performance by JIT(Just in Time) compiler. Additionally, further functionalities including Search in-browser, Adobe® Flash® Player 10.1, improved customization options will be provided with OS upgrade.

– Google MapsTM with Navigation: GPS navigation system with voice guidance

– Adobe® Flash® Player 10.1: Allow the web browser to make full use of the whole web

– Setup Wizard: Quickly customize the GALAXY S and access networks with ease

– Home Screen/Menu Preview and Edit : Preview by pinch-zoom

– Search in-Browser : Google™, Translate, Wikipedia, Dictionary

The Android 2.2 upgrade will be available from the mid of October 2010 in the Nordic region and gradually rolled out to other European markets, Southeast Asia, the Middle East Asia, North America, Africa and rest of the world.