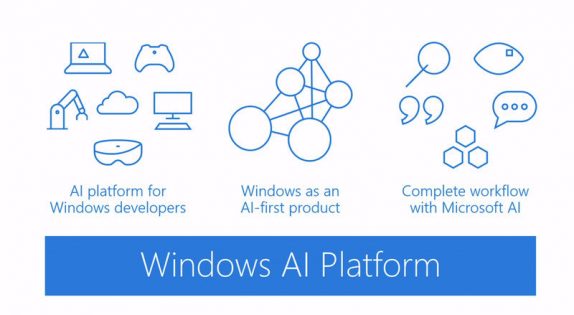 Microsoft today announced that its next major Windows 10 update will include more artificial intelligence capabilities as it unveiled a new AI platform; Windows ML for developers. This new platform will help developers create Windows 10 app that will leverage on the existing pre-trained machine learning models in apps.
the number of benefits the new platform will offer developers includes Low latency, real-time results, reduced operational costs thanks to the Microsoft's Cloud AI platform, and more flexibility to perform AI tasks on the device or in the cloud based on consumer requirements. The company is collaborating with Qualcomm, Intel, NVIDIA, and AMD for its Windows ML AI platform.
Developers will have the ability to import the existing learning models from various AI platforms and run them locally on PCs and devices running Windows 10. This process helps in speeding up the time analysis data like images or video, improving background tasks like indexing files for quick search inside apps. Microsoft is already having its AI implemented in platforms like Office 365, Photos App, and Windows Hello. Furthermore, developers can use the new AI platform across IoT edge devices, HoloLens, 2-in-1s and desktop PCs, workstations, servers and in data centers.
Other AI processors like Intel Movidius VPU, will also be supported. The company says that Windows will take care of the older hardware processing machine learning models, eliminating the need for developers to worry about the performance impacts in their apps.
Developers will get the early access to the AI platform of the Windows with Visual Studio Preview 15.7 and will be able to use the Windows ML APIs in standard desktops and Universal Windows Apps across all editions of Windows 10 this year.