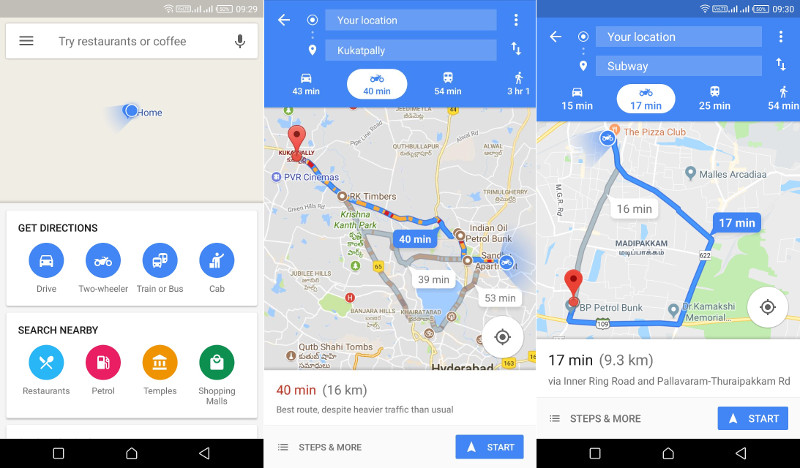 At the Google For India 2017 event today, apart from announcing Android Oreo Go edition and launching new apps, Google has announced new Two-wheeler mode in Maps for India. This is the India-first feature which is debuting in the country before it goes to other parts of the world. The new two-wheeler mode is placed alongside the other modes; Car, Foot, and Train that are present.
This mode is aimed at providing two-wheeler riders in India with better navigation and directions that are best suited for them and their vehicle to travel. It makes total sense that Google is launching such a feature first in India, as it is the largest two-wheeler market in the world. Two-wheeler mode in Maps shows trip routes that use "shortcuts" which are not accessible to cars and trucks.
[HTML1]
The mode also provides with customized traffic and arrival time estimations and will also show major landmarks on the route map since most of the two-wheelers rely on that. Rest of the Google Maps feature like traffic situations, lanes, voice navigation are present. Two-wheeler mode is already available on Google Maps for everyone in the country.
Commenting on the launch,  Martha Welsh, Director Google Maps said:
India is the world's largest two-wheeler market and the navigation needs of these millions of riders are different from automobile drivers. Two-wheeler mode in Maps gives routes that use shortcuts not accessible to cars. It also provides customized traffic and arrival time estimations.