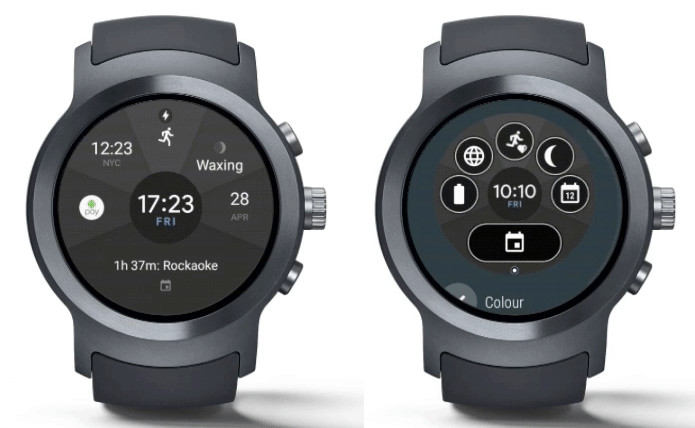 Google has rolled out Android Wear v2.6 update which brings a full suite of new additions like the tweaks to the interface, a new recent app complication, network status indicators and more. Google has announced its plan to make the Android Wear updates easier with Play Store updates rather than just waiting for the firmware updates.
With the complication, you can launch few handy tools with a just single tap. Static shortcuts to apps were able with Android Wear 2.0, and now you can also add shortcuts to your most recent app, and once you run any app, its shortcut icon will appear in the place of the complication, so you will be aware of which one you're getting. To add the recent app complication, open the watchface editor and pick one of the complication spots.
Download Status indicator cards are slowly making its way to Android Wear. It now shows a notification with a progress card for downloads; it shows the time remaining for a download in a countdown format and the halo surrounding the icon at the top will fill up as you get closer to the download.  
The Quick Settings panel now gets connection status indicators which is yet another simple addition to the U.I. Just need to pull down the shade from the watchface, and you'll be able to spot Wi-Fi, Bluetooth, and cellular icons right next to the battery indicator. The up/down arrows are present to show data activity. With the new update, Google has added Dynamic text sizes in notification cards.
With the limited screen real estate, developers need to make use of the available space without getting stuck with notifications, so you determine whether the notification warrants extra attention. The new update will add more text and gives you an extra line of text. The font size is little less, but it shouldn't bother much if you wish to have few extra words in a slightly smaller text size.
Listening to the complaints of users that swipes are too easily triggered which caused in cards being dismissed before they should be. However, with the new update, Google has made it harder to trigger swipes and long-presses accidentally. You can either wait for Google to roll out the Android Wear update via Play Store or just download the APK from here and manually side-load it.