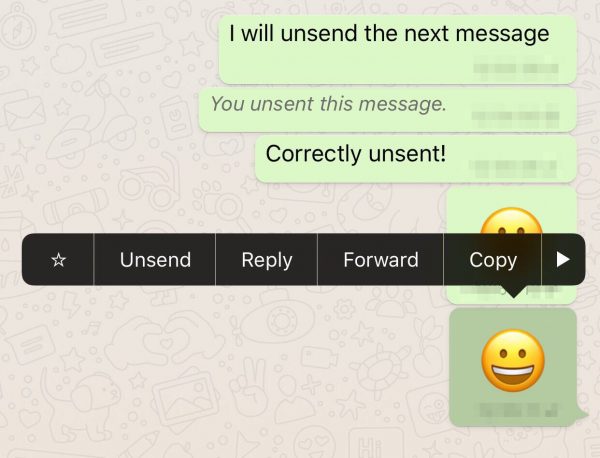 WhatsApp is inching closer to add the much awaited feature that will allow use to recall sent messages. The Facebook owned messaging app is working on developing the feature that lets users recall a message till up to five minutes. This feature is coming to v2.17.30+ for iPhone first, but will also hit Android and Web.
WhatsApp recently updated the iOS to version 2.17.30 with albums, filters and reply shortcut. However, according to WABetInfo, the recall feature will be remotely enabled in version 2.17.30+ but it is not certain when WhatsApp will enable the feature. It is believed that the sent text gets deleted from both the phones and the recall feature will also work for photos and videos. It is not yet clear as to when this feature will be made available to iPhone.
In addition to the recall feature, WhatsApp for iPhone will also get a new contacts tab that will be available under your status updates. Up next, the update will also bring three Facebook stickers packs to the app that will up your chatting experience further. Moreover, the GIF picker will also be tweaked to fall in line with Android and Windows Phone. When you send a GIF or a Sticker, it will be saved in the "Recent GIFs/Stickers" tab, to quickly find it later.
WhatsApp will also add a new features which will enable users to change their numbers within the app itself. If the user changes the number, a notification can be sent to chosen or all contacts about the switch.