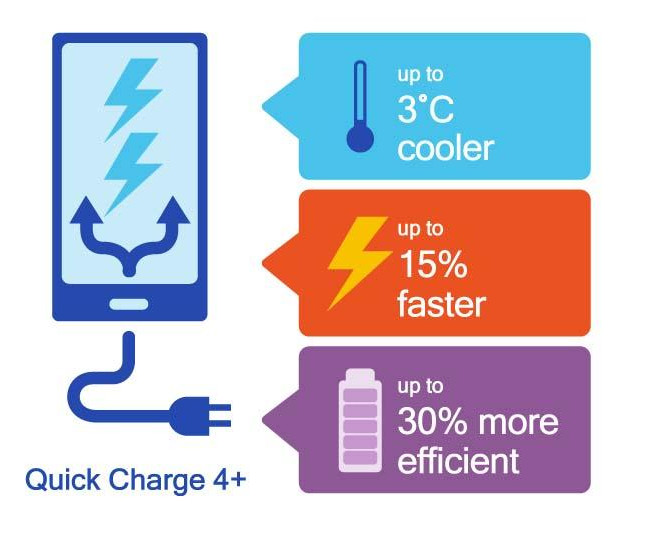 Qualcomm introduced Quick Charge 4 last year along with the Snapdragon 835 Mobile Platform. Now it has announced Quick Charge 4+ that includes all the benefits of Quick Charge 4 along with three new enhancements such as improved Dual Charge, Intelligent Thermal Balancing and Advanced Safety Features. With these features it can charge up to 15 percent faster, or 30 percent more efficiently when compared to Quick Charge 4, says Qualcomm.
Highlights of Qualcomm Quick Charge 4+

Dual Charge: Includes a second power management IC in the device that divides the charge current, allowing for lower thermal dissipation and reduced charge time
Intelligent Thermal Balancing: Engineered to move current via the coolest path autonomously, eliminating hot spots for optimized power delivery
Advanced Safety Features: Designed to monitor both the case and connector temperature levels simultaneously. This extra layer of protection helps ward against overheating and short-circuit or damage to the Type-C connector.
The latest Nubia Z17 that uses NeoCharge quick charging technology, is based on QC4+ from Qualcomm, making it the first device to support Quick Charge 4+. We should see more devices based on QC4+ soon.