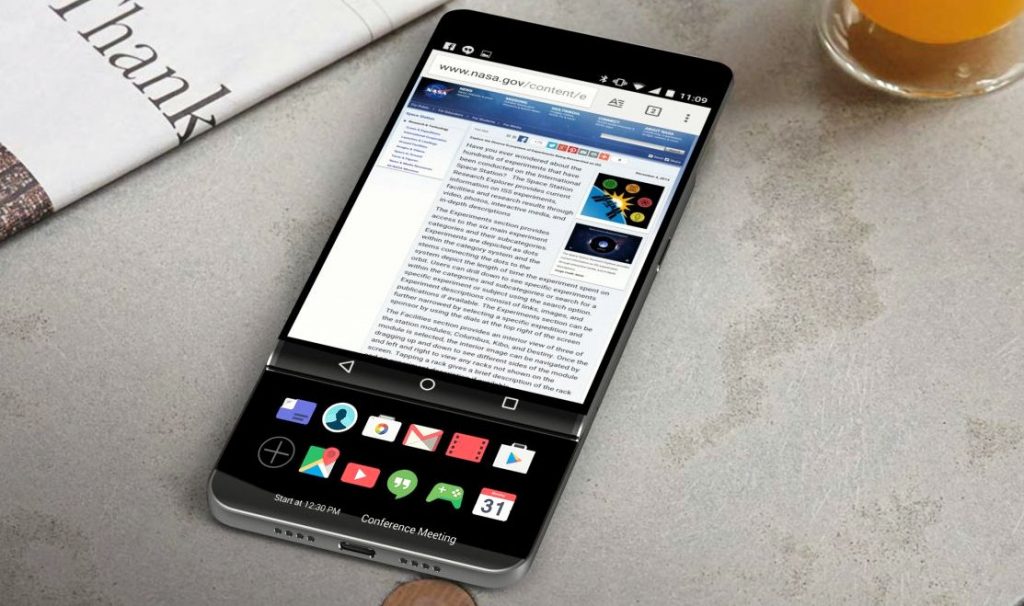 LG will unveil its flagship V30 smartphone later this year. Now concept image of "Project Joan", a.k.a. the LG V30 has surfaced online, thanks to @evleaks. The image shows a slide out design just like the BlackBerry Priv, but this has a secondary screen instead of a hardware keyboard.
Weekend bonus: this is an old-ish mockup of Project Joan, a.k.a. the LG V30. Not clear if the project is still headed in this direction. [1] pic.twitter.com/k5jNJ7DyLz

— Evan Blass (@evleaks) May 27, 2017
The image also shows a unibody metal design and dual rear cameras. It also shows several use cases for the secondary slide-out screen such as display of Weather and time when the phone is locked, keyboard when chatting and more.
Finally, several use-case scenarios for the second screen. [3] pic.twitter.com/ZKucMOScam

— Evan Blass (@evleaks) May 27, 2017
Recent rumors from Korea said that LG will be switching to OLED displays on its flagship smartphones instead of LCD, starting from the LG V30 since they will be ramping up the production of OLED panels from July. Since the images of the V30 are mockups, it is not clear if the final version will look like this.
The LG V30 is expected to be announced in the last week of August, ahead of IFA 2017 that starts on September 1st.