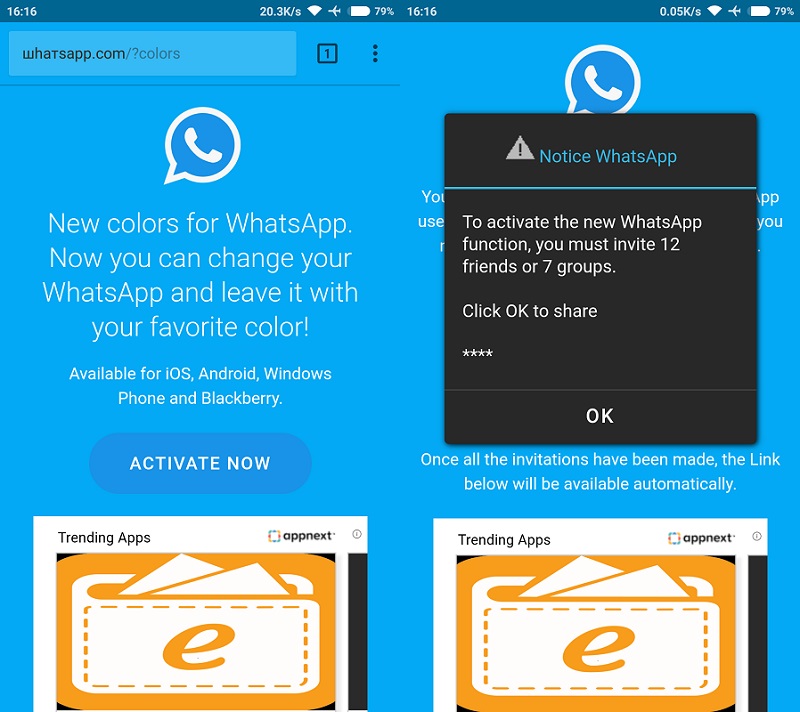 If you come across a website that offers you WhatsApp in different colours, ignore it. A fake website claiming to offer different-coloured skins for WhatsApp is making rounds and it is advised not to fall for it as it is an adware.
The issue was first spotted by Reddit user "yuexist" who shared screenshots and details about the adware attack on WhatsApp. Instead of directing users to WhatsApp's official website which is http://whatsapp.com, the adware directs users to fake website- http://шһатѕарр.com. The "ш" symbol, which resembles "w" in some fonts, is actually a Greek or Cyrillic alphabet.
Yuexist explained in the Reddit post how the adware works,
User gets the message saying whatsapp is now available with different colors " I love the new colors for whatsapp http://шһатѕарр.com/?colors When you click the fake whatsapp.com url in mobile, the user is made to share the link to multiple groups for human verification. Once your done sharing you are made to install adware apps after you have installed the adware the website says the whatsapp color is available only in whatsapp web and makes you install an extension.
This extension was available on Chrome Web Store however Google has removed the extension from the store. The latest adware issue comes only days after over 150 countries were hit by the WannaCry ransomware attack. It is strongly advised that users do not try to click on any of the links or try to install anything from this website.