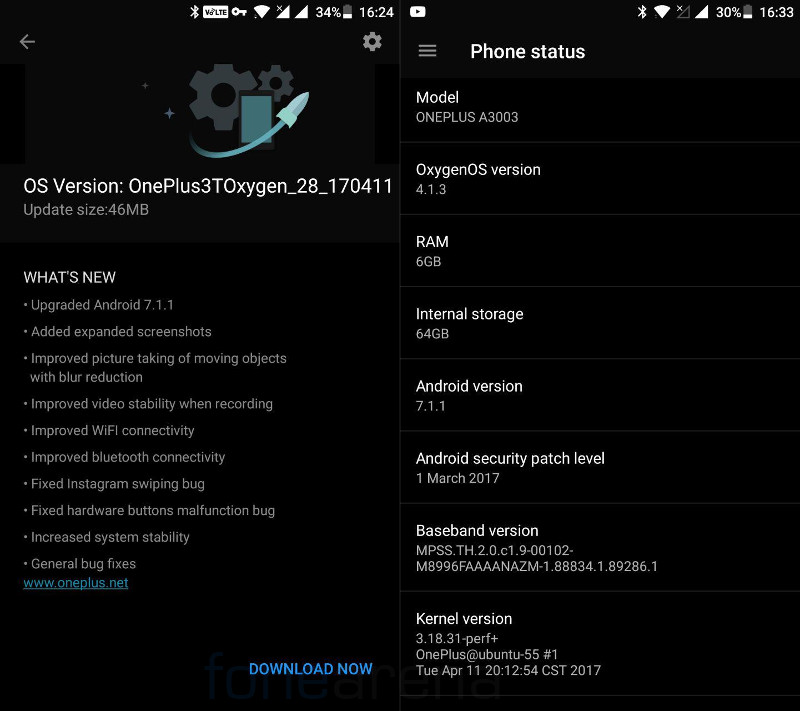 OnePlus today started rolling out OxygenOS 4.1.3 update for the OnePlus 3 and OnePlus 3T smartphones. This has similar changelog as the OxygenOS 4.1.0 update that rolled out last month, and even has the same Android security patch for March, 2017, but this includes fixes for Instagram swiping bug and hardware buttons malfunction bug.
OnePlus also said that this update also improves system stability.
Upgraded Android 7.1.1
Added expanded screenshots
Improved picture taking of moving objects with blur reduction
Improved video stability when recording
Improved WiFI connectivity
Improved bluetooth connectivity
Fixed Instagram swiping bug
Fixed hardware buttons malfunction bug
Increased system stability
General bug fixes
OnePlus recently released new OxygenOS betas (Beta 4 for OnePlus 3T and Beta 13 for OnePlus 3) for the 3 and 3T phones that brought several new features such as new launcher with added support for shortcuts on 7.1.1, Redesigned app drawer and UI for launcher settings, Notification Denoising, Gaming Do Not Disturb mode, Automatic Night Mode, Secure Box for file encryption, Quick pay option for India.
OnePlus said that OTA will be incremental and will reach a small percentage of users today, and broader roll out will happen in a few days.