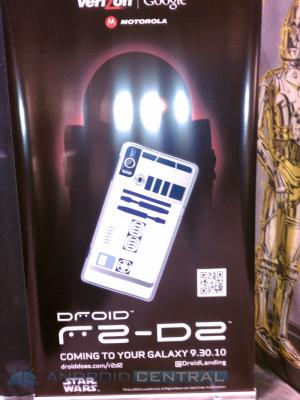 Recently Verizon launched the successor of the original Droid, the Motorola Droid 2, which is a very good and an improved version of the Droid 1. Motorola is also launching a limited version of the Droid 2, which will be known as the Droid R2-D2.
Folks over at AndroidCentral got their hands on the screenshot of Droid R2-D2, which appears in Start Wars convention in Orlando. As you can see in the image above that the R2-D2 version is hitting Verizon on September 30th.
If you are a Start Wars fan, then you know what I am talking about, but if you aren't then let me tell you that R2-D2 is a robot or droid in Start Wars, and the Motorola Droid R2-D2 will come with a R2-D2 theme on its back, and also some features inside the phone.
Sign Up over here for more information about the Droid2 R2-D2.
So folks, like or unlike? Tell us in the comment box.