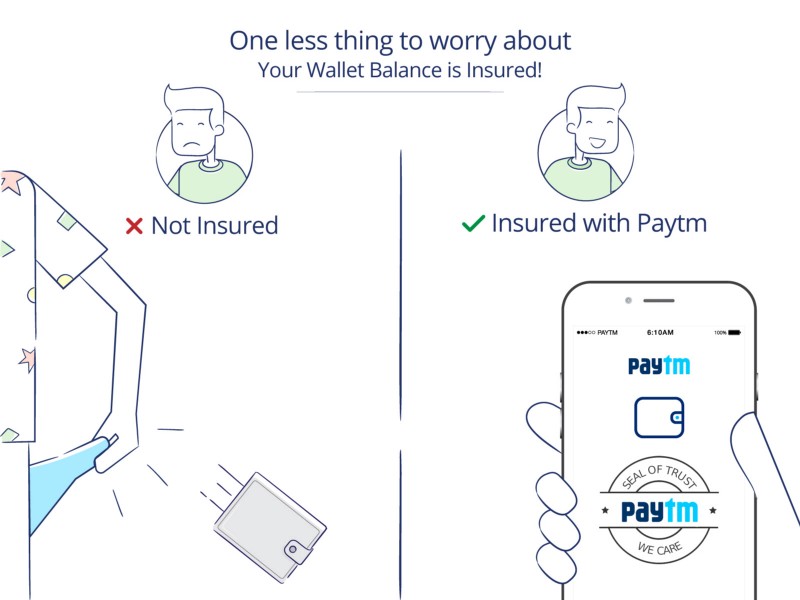 Paytm has introduced a new insurance cover to protect the money in your Paytm Wallet in case of theft, loss of device or unauthorized access. Dubbed as Wallet Insurance, all Paytm users with balance in their wallets are automatically covered under this scheme at no additional cost and the lost money would be refunded to their Paytm Wallets.

Paytm users will need to report the loss immediately to us at paytm.com/care or by calling company's Customer Care number +91 9643 979797, and then lodge an FIR with police about loss of device (in case of loss/theft of device) and share the details with Paytm within 24 hrs. The wallet insurance will cover loss of Paytm Wallet balance up to Rs. 20,000 due to fraudulent transactions as a result of theft, burglary or loss of phone. Paytm will block the wallet within 2 hrs. of an incident being reported and it can be used after the company unblocks your account and offers you a new password.
Paytm will then assess the claim and check if it is genuine and following its authentication, Paytm will settle your wallet within 5 working days. It must be noted that coverage will be applicable only in case Paytm receives intimation of any transaction/loss of device within 12 hrs of the incident. The reimbursement amount will be a maximum of the user's Paytm Wallet balance at the time of incident or Rs.20,000, whichever is lower. Only one incident of claim is applicable per user within a period of 12 months.
Last month, Paytm crossed 200 million wallet users that are doing about 8.5 million transactions every day.