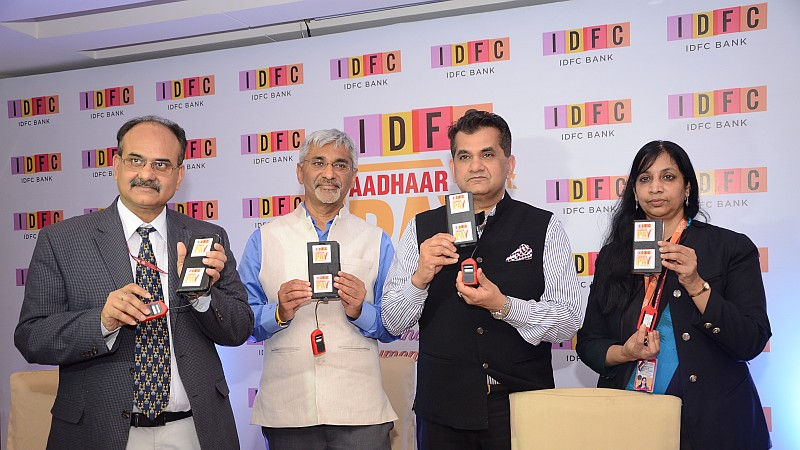 With an aim to promote Aadhaar-based payment system, IDFC Bank has launched Aadhaar Pay, an Aadhaar-linked cashless merchant solution that uses a retailer's own Android smartphone to enable cashless payments.
Designed by IDFC Bank in association with the Unique Identification Authority of India (UIDAI) and National Payments Corporation of India (NPCI), the app was announced at the Union Budget 2017-18 last month. It is available only to merchants, who are on-boarded via e-KYC. The app was being trialled by over 1,500 merchants across 16 states before the launch. Aadhaar Pay service will enable people to make and receive payments using their Aadhaar number and biometrics. This will be specifically beneficial for those who do not have debit cards, mobile wallets and mobile phones.
How does the app work?
An SMS link will enable the merchant to download the IDFC Aadhaar Pay app on any basic smartphone, which will be connected to a STQC-certified Aadhaar biometric reader. Following a purchase, the merchant's Aadhaar linked bank account will be credited. To make payments, customers need to select their bank's name and fill one field on the merchant's phone – their Aadhaar number. The customer's fingerprint is then used to authenticate the transaction. Customers themselves do not need a smartphone to complete the transaction, making the app most useful in rural regions. One of the main advantages of doing a transaction through Aadhaar app is that no additional charges will be levied unlike debit and credit cards.
It must be noted that the Aadhar Pay app which is present in the Play Store only has detailed information about the app and is not the actual app. The Aadhaar Pay app went live last week at a fair price shop in Andhra Pradesh, following which it was introduced to merchants in Delhi and Bihar. Over the past three days, over 100 merchant outlets have started using IDFC Aadhaar Pay. The bank aims to reach 50,000-75,000 merchant points to be connected to the Aadhaar pay module in the next two years.
A total of 1 billion Aadhar numbers have been made and nearly 400 million Aadhaar numbers have been linked to bank accounts.  The government targets 25 billion digital transactions on various new payments platforms in 2017-18.
Founder MD & CEO, IDFC Bank, said,
IDFC Aadhaar Pay proves that technology can revolutionise last mile payments. By using the fingerprint as digital identity, it empowers even individuals without a phone to pay electronically for small value transactions. The convenience of Aadhaar Pay is expected to encourage a behavioural shift towards digital payments.