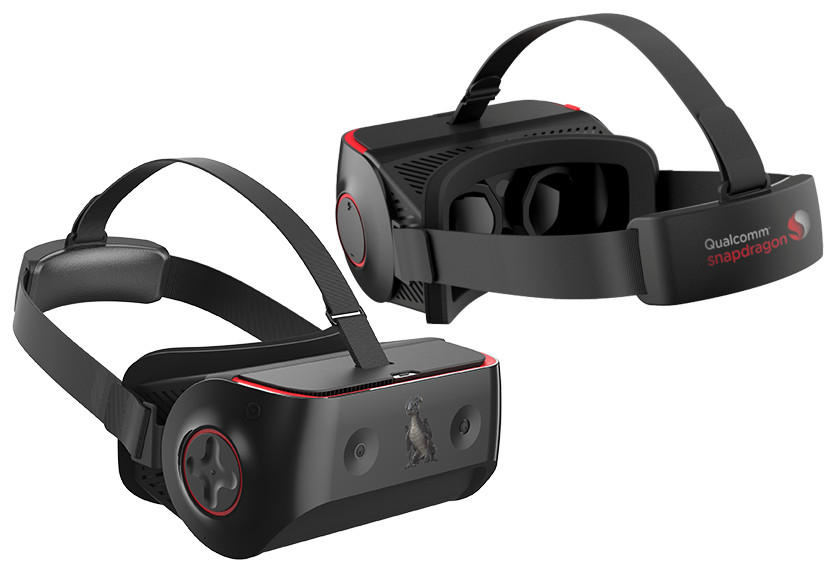 Qualcomm has introduced a new virtual reality development kit (VRDK) for the Qualcomm Snapdragon 835 that gives developers early access to a VR head mounted display (HMD) built with the Snapdragon 835 supported by an upgraded VR software development kit (SDK) that works with the head mounted display.
The Head mounted display included in the Snapdragon 835 VRDK consists of:

Display: Four megapixel (2560×1440) WQHD AMOLED display (two megapixels per eye)
Six degrees of freedom (6DoF) motion tracking:

Two monochromatic, one mega pixel (1280×800) global shutter cameras
Inertial measurement unit with fast interface Snapdragon 835 integrated sensor core

Eye Tracking:

Two monochromatic VGA global shutter cameras

Memory: DRAM: 4GB LPDDR4 and Flash: 64GB UFS
Connectivity: Wireless with Wi-Fi, Bluetooth and USB3.1 type C (power)
Audio: Integrated Qualcomm Aqstic audio codec (WCD9335)
I/O: Trackpad on right side of HMD
Qualcomm also announced its Head Mounted Display (HMD) Accelerator Program designed for original equipment manufacturers (OEMs) of virtual reality hardware.
This is designed to help manufacturers reduce engineering costs, decrease the time it takes to create and ship new products, and provide means for OEMs to validate performance metrics, said the company.
It also said that manufacturers will have access to reference design products and choose from a pre-qualified set of components and they have the choice of either building their own HMDs from reference design materials provided, or working with a trained, turnkey original design manufacturer (ODM) like Goertek or Thundercomm to modify and the Qualcomm Snapdragon 835 VR HMD to suit the manufacturer's commercial needs.
The virtual reality development kit (VRDK) for the Qualcomm Snapdragon 835 mobile platform is expected to be available in the second quarter of 2017 through the Qualcomm Developer Network and is expected to ship in the second half of 2017.