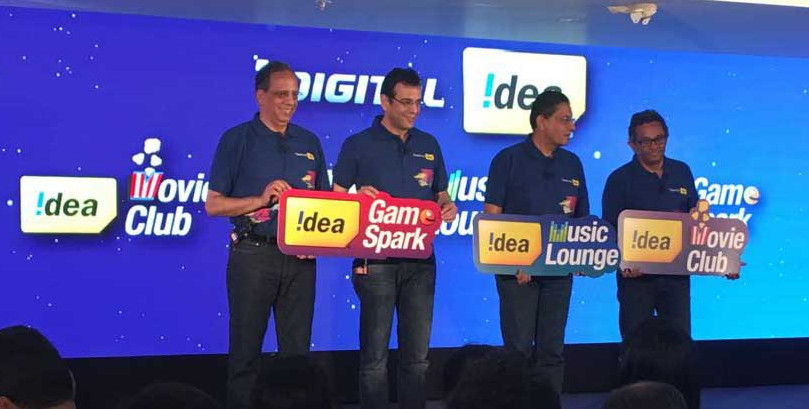 Idea Cellular today launched three new Mobile Apps – Idea Music Lounge, Idea Movie Club, and Idea Game Spark under Digital Idea to take on Reliance Jio and Airtel, as it had announced last week.
Idea said that these digital content applications will serve as a one-stop entertainment destination initially for Idea subscribers offering collection of popular and premium Hindi, Vernacular and International content.
Idea Music Lounge currently has nearly 2 million Indian and international music tracks across 13 Indian languages and will eventually get 20 million tracks. It is available at free of cost for unlimited streaming for Idea customers, while downloads are available for Rs. 49 for a month subscription.
Idea Movie Club has movies, Live TV, 7 days catch-up TV, along with a series of Original content and Short Videos across all genres and several languages. Subscription at Rs. 49 per month for unlimited Movies, Videos and TV streaming.
Idea Game Spark has a collection of over 1,500 games across all genres. The games can be played both in the online and offline mode. Idea Game Spark subscription is priced at Rs. 29 per month for unlimited games both online and downloads got. It is available for Idea as well as non-Idea users on ideagamespark.com. There are also free games to download.
As an introductory offer Idea users get free subscription to all the apps for free for 90 days if the subscription is activated within 31st March 2017. These provide all kinds of payment options such as wallets, debit/credit card and net-banking etc, the company said.
Download – Idea Music Lounge for Android (Coming to iOS soon), Idea Movie Club for Android and iOS
Commenting on the launch, Himanshu Kapania, Managing Director, Idea Cellular, said:
Having committed significant investments in building a world class wireless broadband network in the country, Idea has decided to enhance its portfolio of services. With the birth of 'Digital Idea', the company is gearing itself for catering to the growing population of mobile users who consume digital content on their mobile devices.