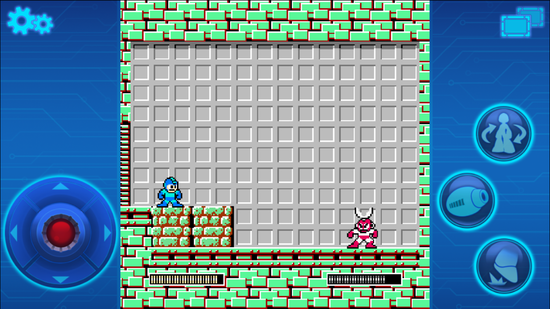 Nostalgia is usually triggered by something that reminds you of your childhood days. In fact, if you try to rewind your memory and remember the games you played, you would feel that your childhood was absolutely a bliss.
In an attempt to bring back those memories, Nintendo brought its legendary Mario character in a completely different game that allows you to play in one hand dubbed as Super Mario Run on iOS platform.
Soon after, the Japanese video game maker Capcom has announced the release of 8-bit Mega Man game (Mega Man 1 through 6) on the mobile platform including both Android and iOS.
Initially, the company will be launching the game on January 6th, 2017 to the Japanese market only. Additionally, Capcom has released a screenshot of the game retaining an original 4:3 ratio with free space on both sides utilized for virtual d-pad and other buttons.
In reference to the screenshot attached above, Capcom is expected to release the game without any change in terms of visual and gameplay as they were 20 years ago.
Moreover, we don't have any information about the global launch of this classic game yet.