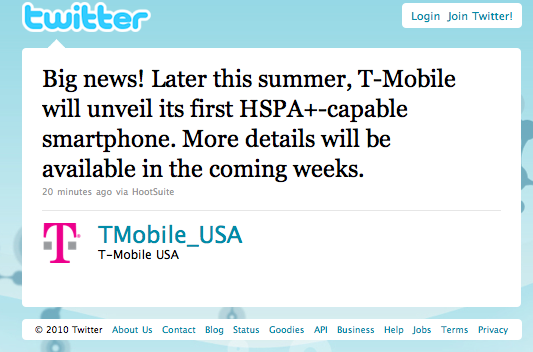 T-Mobile USA teased their fans through Twitter by announcing a big news that later this Summer, T-Mobile will unveil it's first ever HSPA+ device, and more details will be available in the coming weeks (or probably in August). That's a very exciting news for all T-Mobile customers.
There are devices available on T-Mo that can take the taste of HSPA+ network, but not a single device can take the full advantage of it. So that's why, a special HSPA+ device is important.
Probably the first HSPA+ device will be HTC made, because most of the T-Mobile devices are manufactured by HTC, and there is no doubt in it that HTC is one of the famous smartphone manufacture, and their device are very reliable. May be the leaked HTC Vision is the first HSPA+ device. It is rumored that T-Mobile will launch the first HSPA+ handset in September.
T-Mobile USA recently launched 3G HSPA+ network in following cities:
Austin, El Paso, Fort Worth, San Antonio, and Waco, Texas
Baltimore, Md.
Baton Rouge and Lafayette, La.
Birmingham, Ala.
Cincinnati, Cleveland, Columbus, and Dayton, Ohio
Ft. Lauderdale and Jacksonville, Fla.
Greenville, S.C.;
Honolulu, Hawaii
Indianapolis, Ind.
Kansas City and St. Louis, Mo.
Milwaukee, Wis.
Minneapolis, Minn.
Portland, Ore.
Wichita, Kan.
They also expanded their coverage in Los Angeles, New York City, Washington D.C., and a few other major areas.
Well, we'll hear a good news in a few weeks, so stay tuned.
via TmoNews