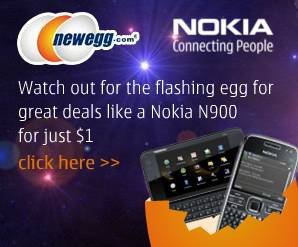 Who wants the Nokia N900 and Nokia E72 for $1? There's no doubt in it that everyone want to buy an expensive phone for $1. So if you want to try your luck, then let me tell you how to do it.
You will get a chance to win the phone through the cool new Nokia-Newegg promotion. The original price of Nokia N900 is $649 and the price of the Nokia E72 is $469 respectively, but if you directly buy it from Newegg right now, then you will save $200 on Nokia N900 and $140 on Nokia E72.
But if you want to save all your money and only want to spend $1, then there are some special banner ads with a golden egg and Nokia N900 and E72 in it on some special sites mentioned over at WOMWORLD, and when the egg flashes and if you are the first lucky person to click it, then the deal is yours.
The deal is only for North American residents.
The deal starts from today, and the egg will flash regularly over the next month. If you don't have enough time to sit on your PC to watch the flashing eggs, then you have to give some chocolates to your little siblings, so then they will take care of your deal.
So people go for it, and if you are our precious reader and your luck shines, then don't forget to tell us.