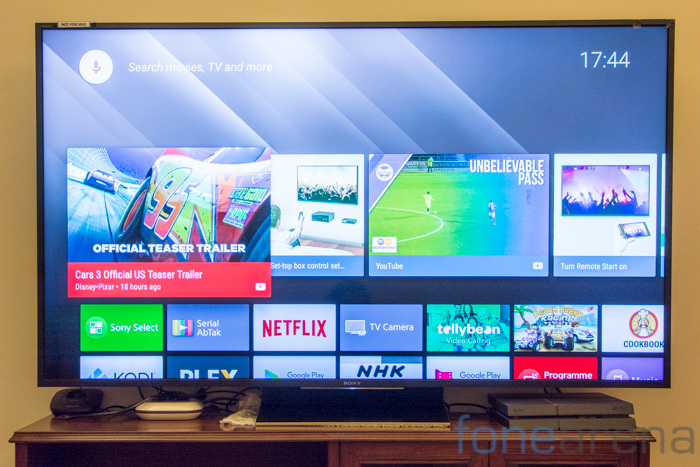 The times they are a changing and so are user preferences. As the vast number of Chinese entrants condition users to larger sizes and a whole host of features and/or gimmicks usually reserved for much higher end models, established entities like Sony and Samsung face an uphill battle to make a case for their offerings. As we saw in our review of the Sony KD-55X9300D, the industry leaders are bringing out the big guns to show why they might still be the better choice.
Design
The KD-65Z9D has a no-nonsense design that puts the display front, right and center. Narrow bezels all around lay focus on the minimalist design. The marginal bezel running around is unbroken by speaker grilles and buttons.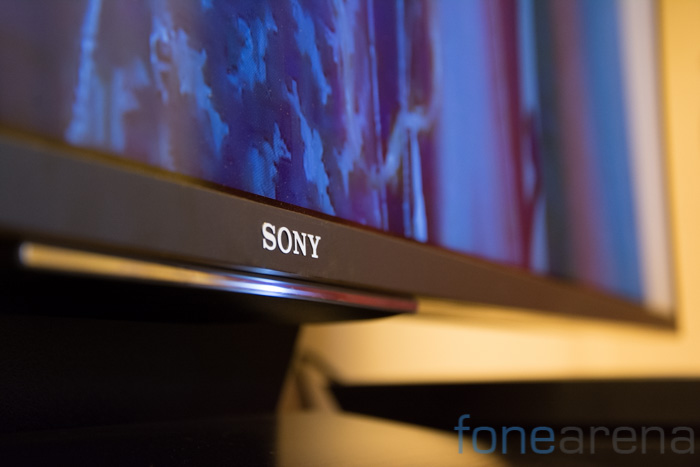 A Sony logo is placed at the center of the bottom bezel and an LED shines below it indicating the current status of the television. The base stand, should you choose to use it, is a thing of beauty and adopts a wedge like shape that seemingly elevates the entire display panel. Indeed, the panel appears to float above the mount. The 10W bottom firing speakers hence remain unobstructed and prove to be sufficiently loud but we'll talk about those shortly.
At it's thickest point, the KD-65Z9D is about 78mm thick, considerably less around the edges though. Gold bezels with an elegant slit runs around the display and adds an extra design flair. The gold bezels gently swell over to the back with a grid like pattern. The rear pattern is something that really won't be visible in most cases but it is nice to see the attention to detail here.
Hardware Inputs
Most of the commonly used input ports are placed on rear left corner and you can access additional ports placed under a cover. This does however create a problem in the sense that attaching additional HDMI devices will require you to keep the cover removed. Then again, this is at the back of the television which isn't really visible so it shouldn't be a cause for concern. We'd have hoped for a better solution from Sony though.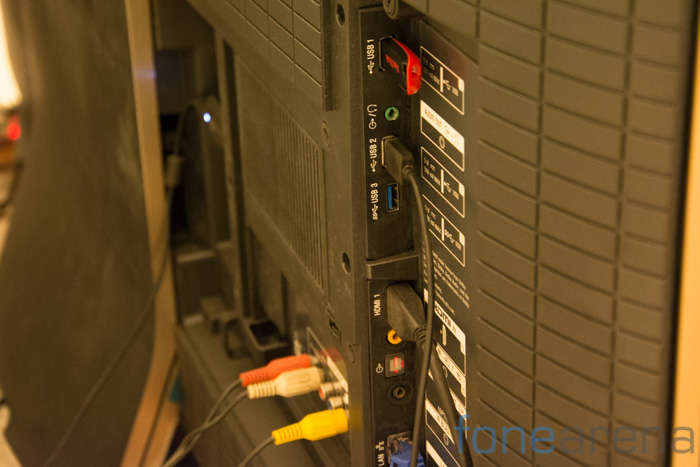 Externally exposed, the television comes equipped with a single HDMI port, composite video input, RF input, ethernet jack, digital audio out, headphone output as well as three USB ports. Under the cover are three more HDMI ports, single hybrid component input. Clearly, the television is well equipped in terms of ways of getting your content onto the display. There's of course Google Cast support thanks to the Android TV OS as well as built-in WiFi, WiFi Direct and Miracast.
Display Quality
After a certain threshold, it becomes really hard to find a bad television but when you're investing the kind of money that Sony demands for the KD-65Z9D, you want something truly fantastic. To answer your question, yes the television completely delivers on the promise.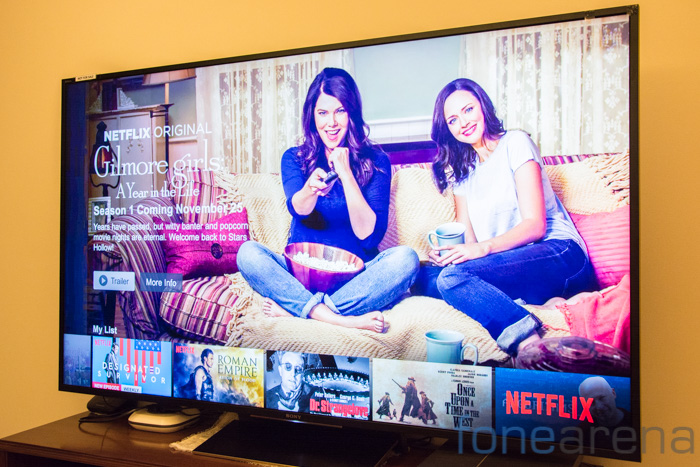 Sony has been very vocal about the 4K HDR Processor X1 Extreme and the Backlight Master Drive built into the panel. Marketing jargon aside, the HDR Processor X1 Extreme delivers very effective upscaling of SDR HD content to near 4K HDR visuals. This is particularly important in the Indian market where 4K content and HDR more so is very hard to find. Upscaling in general is quite effective thought there's only that much you can do if you are using standard definition footage. The Triluminos Panel and 4K X-Reality Pro engines particularly shine when viewing native 4K content. We tried some stock 4K footage played over a USB drive as well as 4K content from Netflix to test out the panel and there was little that we could complain about. The large display paired with the pixel perfect rendition makes watching movies and other content an absolute pleasure.
Software
Like the 55 inch television KD-55X9300D, the KD-65Z9D too run Android TV. Based on Android Marshmallow, this time around the processor is a Mediatek MT5891 which combines 4 Cortex A53 processors with a Mali T860 GPU. Processor specifications shouldn't really matter in a television but there's a point to be made about how much better the Android TV experience is on the 65Z9D.
Running on Android TV, you get access to the Play Store as well which gives you access to a whole range of apps and games. Performance is absolutely satisfactory for the most part though occasionally we came across the limitations of having just 2GB of RAM. When playing high-definition content through apps like Kodi, there were a few occasions where we observed frame drops and stutters due to a filled up cache. This is a factor to keep in mind if you plan to watch a lot of offline content through external drives. Talking about hard drives, the television can read FAT, exFAT and NTFS drives with ease.
Preinstalled apps include SonyLive, Netflix, SerialAbTak, Sony Select, Opera Browser and shortcut links to download a whole bunch of games. A few of these are useful but a lot aren't. You can get rid of most of these. When it comes to games, it is a simple affair to plug in a gamepad or Dualshock 3 controller to enjoy almost console class gaming. Of course it is also possible to play basic games using the television remote control. Finally, while the likes of Hotstar don't have an Android TV application, you can simply use the Chromecast functionality built into the television to view your content on the large screen.
Audio
Dual 10 watt down firing speakers are built into the screen and prove to be sufficiently loud. For general content like news or sports, the speakers are good enough but they are certainly not becoming of a television like this. Loud music, bass heavy content causes a lot of cracking and for obvious reasons you miss out on immersiveness. Do yourself a favor and get yourself a quality surround sound audio system to make the best of the screen.
Remote
The TV ships with a pretty large remote that runs off two AAA batteries. n addition to the regular television controls, the remote also has direct shortcuts for Google Play Movies and Netflix. While it is nice to have these shortcuts, we'd have preferred it if the controls were programmable instead.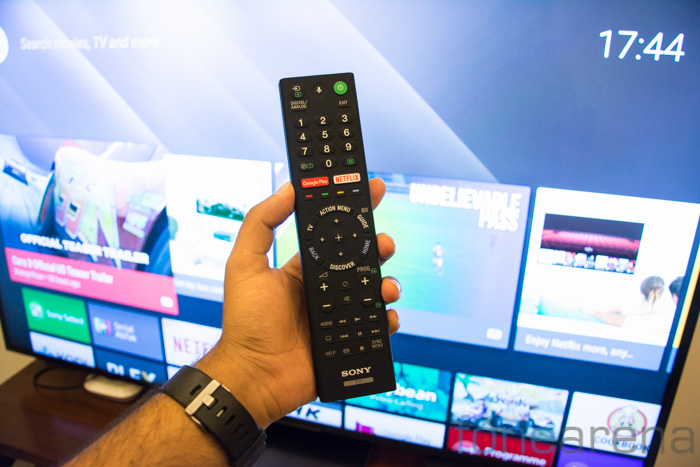 Beyond that the, the same remote doubles up as a way to control the Android TV interface.  A button near the top activates the built-in microphone allowing you to perform all the voice related functions built into Android TV.
Conclusion
There's little doubt about the fact that you should invest in the KD-65Z9D if you are looking at acquiring the absolute cutting edge in display technology. 4K HDR capabilities, absolutely stunning viewing angles as well as pixel perfect color reproduction on a massive 65 inch panel certainly help justify the significant cost of the television.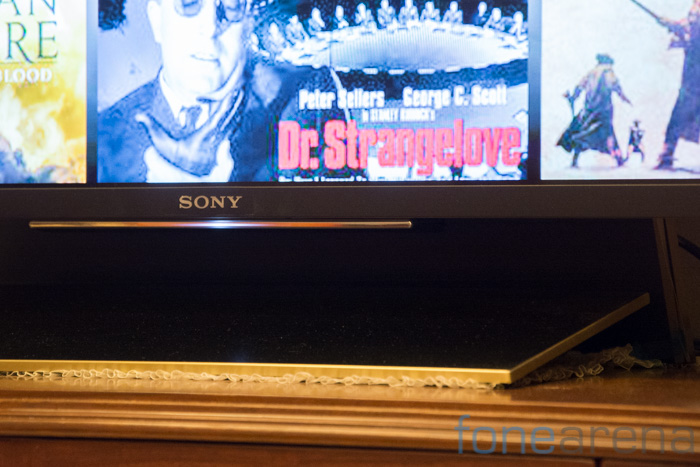 The Sony KD-65Z9D is priced at Rs. 5,04,900 which places it entirely in the enthusiast territory but if you value picture quality, then this is amongst the best that you can get. Between the KD-65Z9D, Samsung's Series 9 SUHD televisions as well as LG's OLED panels, this is a great time for cinephiles looking to build their own home theatre systems.