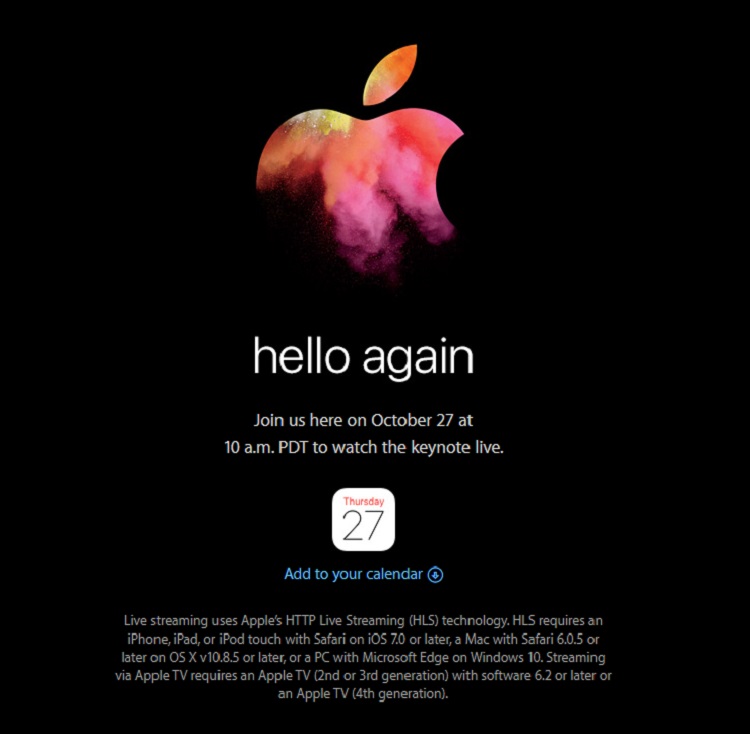 Apple has officially announced its MacBook Pro event which is scheduled on October 27. The company has sent out invites following yesterday's report of a possible event next week.

The invite does not give out much and just says "Hello Again" followed by the date and time. Apple is expected to announce next generation MacBook Pros and MacBook Airs. The 2016 MacBook Pros will ditch the support for traditional USB ports, as well as for MagSafe and Thunderbolt 2. They are tipped to come with Touch ID and and new OLED touch display instead of the standard function keys at the top of the keyboard. In case of the MacBook Air, it is said that Apple plans to kill the 11-inch variant in favor of the 13-inch. In terms of design of the MacBook Air, not much changes are expected except for USB-C support.
The Apple event is scheduled for Thursday, October 27 at 10:00 am PT (10:30 PM IST).  As usual it will offer live stream for iPhone, iPad, or iPod touch users with Safari on iOS 7.0 or later, Mac users with Safari 6.0.5 or later on OS X v10.8.5 or later, or a Windows 10 users with Microsoft Edge. It also offers live stream for Apple TV (2nd generation or later) users with software 6.2 or later.