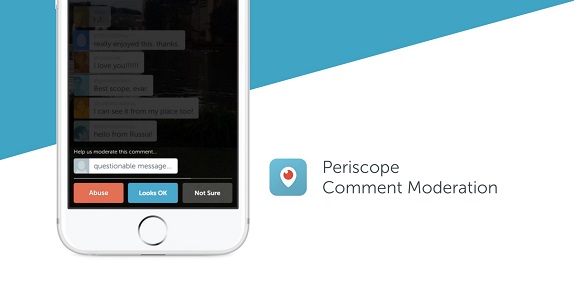 In a bid to curb and fight spams and abuse, Twitter is introducing a new tool for Periscope. The popular live streaming service is getting a real time comment moderation tool that will allow users to report and vote on comments that they consider to be spam or abuse.
Users can access the tool by tapping on a comment within a broadcast. They can report a comment for being spam, abuse, or for other reasons like for example, the comment is in a foreign language. The viewer that reports the comment will no longer see messages from that commenter for the remainder of the broadcast. When a comment is reported, few viewers are randomly selected to vote on whether they think the comment is spam, abuse, or looks okay.
The result of the vote is shown to voters. If the majority votes that the comment is spam or abuse, the commenter will be notified that their ability to chat in the broadcast has been temporarily disabled. Repeat offenses will result in chat being disabled for that commenter for the remainder of the broadcast. The new comment moderation tool is optional and if people don't want to participate, broadcasters can elect to not have their broadcasts moderated, and viewers can opt out of voting from their Settings.
Kayvon Beykpour, Periscope CEO and co-founder said,
We want our community to feel comfortable when broadcasting. One of the unique things about Periscope is that you're often interacting with people you don't know; that immediate intimacy is what makes it such a captivating experience. But that intimacy can also be a vulnerability if strangers post abusive comments. Broadcasters have always been able to moderate commenters in their broadcast, but we've now created a transparent tool that allows the collective actions of viewers to help moderate bad actors as well.
This is a welcome move for a Periscope users. Twitter has always focused on reducing abuse and bullying on its platform with new measures and initiatives over a period of time. It is good to see that the micro blogging site is initiating the same for Periscope.