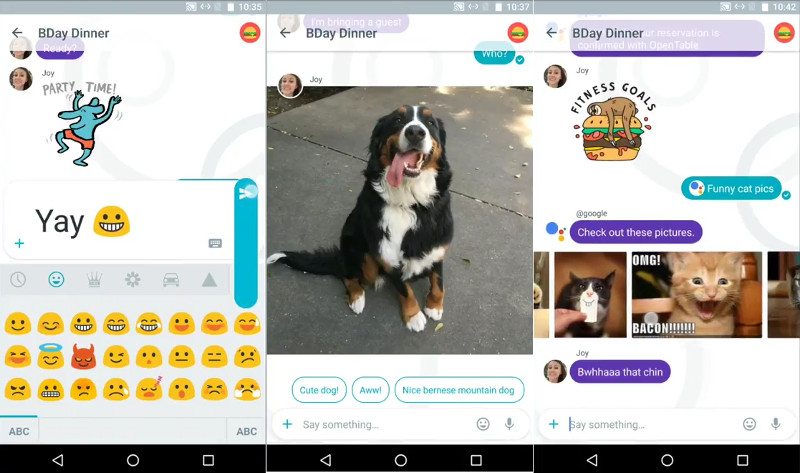 Google I/O 2016 is going on at full swing and we already have quite a few interesting announcements.  Allo is a chatting app made by Google and announced at I/O 2016.
Let's start with Allo. If you pronounced that in a more of a "Hello" sort of way like me then you'd be wrong as Google states it is more like "Aloe". It is a new messaging app from Google that has its search engine built right into the app itself. Although the app may seem like a replacement for Google's own Hangouts app, it isn't actually so. Instead, it will be something that exists as a separate entity and aimed at providing a fresh and new experience. It is however a mobile only app and will be available later this year on both iOS and Android.
Allo allows users to register using their phone number and can even optionally link their Google id as well. Allo also comes with several emojis as well as custom stickers that were developed with the help of artists. These stickers cater to different users based on their region for example whether they are based in India, UK or USA.
However, what is probably the most important feature of the Allo chat app is the Google Search integration. All a user has to do is type in @google followed by the item he/she wishes to search and Google retrieves search results from the web based on that. That means that you don't even have to get out of your chat window or app when you want to check out information that is relevant to a particular conversation. This in turn will save you a lot of time and effort. Allo is also extremely smart since it can suggest smart replies based on what you receive from your friends or family. There is even an incognito mode that provides end to end encryption for your chats as well as discreet notifications.
From the looks of things so far, it seems that Google has solved most of the issues and bridged the gaps that were present on Hangouts and made something that is more mobile friendly. Something that could essentially replace Whatsapp or whatever Chat app you use currently if it does indeed deliver whatever Google has promised.