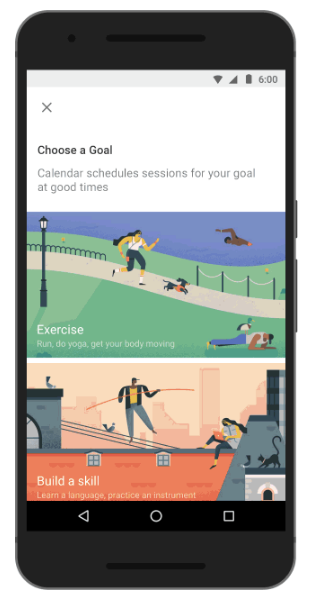 Google has rolled out a new feature for Calendar on the account of its 10 year anniversary. Dubbed as Goals, the new feature helps you find time to meet your personal goals.
With the help of this feature, you can set goals ranging from fitness to may be learning a new skill. In order to set your goals, you will have to tap the floating action button (FAB) and answer few questions like how often you would like to do these things and select best time slots that work for you. "Exercise" and "Build a Skill," are some of the standard goals available, but users can also make custom goals according to your choice like reading, playing video games and so on.
After answering the question, Calendar will take a look at your schedule and find the best possible way to help you make time to achieve these goals. Google says Calendar will also use machine learning to get better at scheduling your Goals activities.
Calendar will automatically reschedule if you add another event that's a direct conflict with a goal. You can also defer a goal at any time, and Calendar will make time for it later. Finally, Calendar actually gets better at scheduling the more you use it. You can just defer, edit or complete your goals like normal, and Calendar will choose even better times in the future.
The Goals feature is available for Calendar app on Android and iOS.