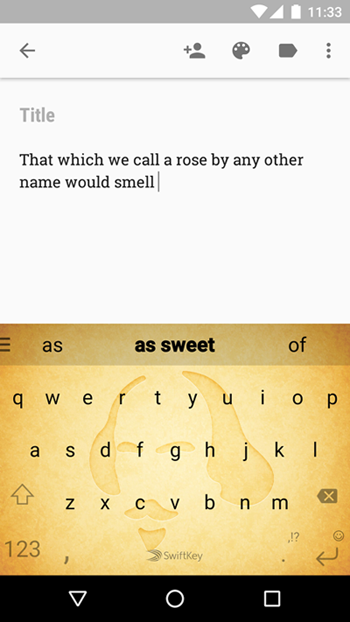 SwiftKey has just released a new experimental Keyboard to mark the 400th Anniversary of Shakespeare. The keyboard is aptly named KeyBard and is available for download on SwiftKey Greenhouse.
SwiftKey Greenhouse is where several new features and innovations are tested and seeded to users. After installing the KeyBard, users will be able to see a new theme for the keyboard which features a parchment like colour as well as a silhouette of Shakespeare behind the letters.
This keyboard is meant to be more of a fun tool rather than a practical use case. Users can basically master the art of writing like Shakespeare used to do without having to learn anything new. The keyboard converts your regular language into "Shakespearian" language automatically as you type. They have studied a lot of his work in order to provide the most accurate results to users. It will also suggest the most popular words used by you or users in general through word prediction. Let us know what you think of the keyboard after trying it out.