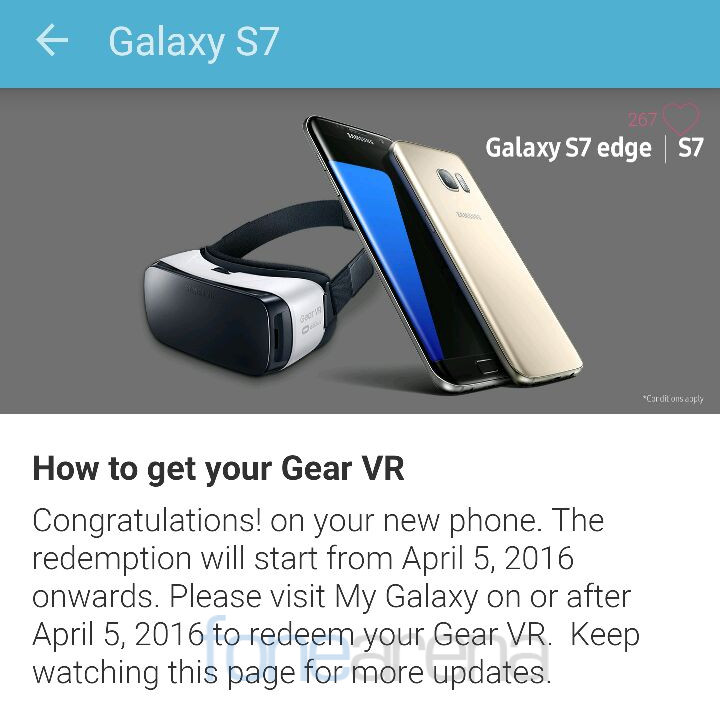 Samsung launched its flagship Galaxy S7 and Galaxy S7 edge smartphones in India earlier this month for Rs. 48,900 and Rs. 56,900, respectively. Both these were available for pre-order on official site and Flipkart from March 8th and the devices started shipping from last Friday, March 18th. Samsung also announced that all pre-orders get a free Gear VR headset worth Rs. 7900, but it doesn't come bundled with the phone, you will have redeem it. Check out the procedure.
How to redeem free Gear VR with Galaxy S7 and Galaxy S7 edge:

Download "My Galaxy" application from Google Play Store using the same mobile number which was entered into either the pre-book app or the Samsung e-Store or flipkart while pre-booking the Device.
If you are already enrolled to the program with the same mobile number, sign in with the existing details.
Fresh enrolment/sign in to My Galaxy must happen by 30th April 2016 failing which you will not be eligible for the offer.
Registration & sign up on My Galaxy to be done with same mobile with which pre booking and activation was done. In case any other mobile number is used you will not be eligible to avail the offer.
Offer will be visible in My Galaxy app from 4th day after activation. Post registering / signing up in the My Galaxy, you can generate your coupon.
Coupon will be valid for one time use only against redemption of Gear VR.
Coupon can be redeemed on samsungindiaestore.com, on or before 30th April 2016.
The shipping of Gear VR will happen within 90 days from 18th March 2016 onwards
After signing using My Galaxy app, you will get a notification automatically after 4 days and redemption starts from April 5, 2016, which might vary for some. Even though pre-orders are now over, Samsung is offering 50% discount on Gear VR on purchase of the Galaxy S7 and Galaxy S7 edge smartphone through its official eStore.