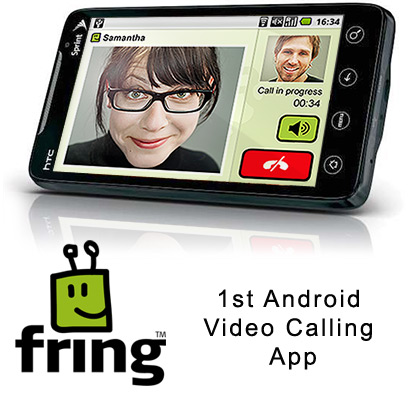 Fring has launched the first video calling app for Android phones. It lets you make 2-way video calls over Internet with the power of VoIP. Although we saw Qik running on EVO 4G during its launch, it seems like it will be limited to the particular device and it's not available to end users till now. Fring for Android makes video calling possible on any android phone with a front facing camera. And the other party in the video call can be using a Nokia phone or even an iPhone incase they just want to see your stream. And the best part is Fring supports Skype, Google Talk Video chats !
"Our users have become accustomed to fring providing them with the latest and most advanced mobile over Internet communication. With Android users on over 50 different devices logging into fring everyday, we leveraged the open Android platform to rapidly develop the first two-way video calls over internet on Android" said Avi Shechter, fring's Co-Founder and CEO. "The demand for this feature has been overwhelming as more people discover richer ways to use their mobile phones. We continue making free mobile video calls widely available, satisfying the market's want for more rich communications tools that these smart phones were designed to deliver."
Watch the app in action in the video below
httpv://www.youtube.com/watch?v=sm8kICCxp1I
Fring is hinting that video calling might require fast CPUs and the press shot is showing an EVO 4G and we are sure it should run on similar phones. But it makes more sense if your phone has a  video calling camera .
But the good news is fring would automatically tests your device processing powere to adjust the phone's video calling capabilities.
And you can download the android market for free or you can use the barcode below