In a bid to make it easier for users to try out new features on Android, WhatsApp has launched a beta program. Available on the Google Play Store, the beta program is good news for early adopters to test latest pre-release builds of the Facebook owned WhatsApp Messenger.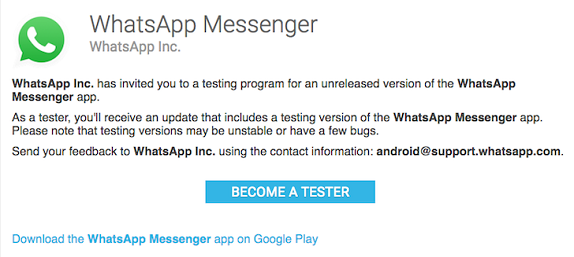 In order to become a part of the beta program you will have to head to WhatsApp's Play Store beta listing and then tap on the 'Become a Tester' button. The Beta version of the app will arrive to your smartphone as an update via the Play Store. This is definitely a welcome move for WhatsApp enthusiast who had to download the beta apk from the website everytime in case of a new update that was not yet released. WhatsApp says that testing versions may be unstable or have a few bugs.
The new beta program will also benefit the WhatsApp which has over 1 billion users, as it will able to gain feedback from the beta testers and try to make the app even better. It will also eventually lead to faster roll out of updates. You can sign for WhatsApp's beta program here.