Qualcomm has introduced Qualcomm Snapdragon Wear, a new platform for next generation wearable devices and the Snapdragon Wear 2100 system-on-chip (SoC). The Snapdragon Wear 2100 will arrive in two versions – tethered (Bluetooth and WiFi) and connected (4G LTE and 3G).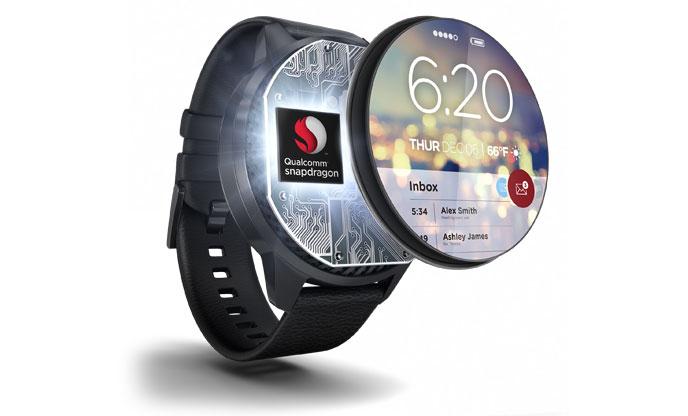 The Snapdragon Wear 2100 processor allows for "always-on connectivity" and low-power usage. Other two important features of the SoC are reduction in size and an increase in power efficiency. It is 30 percent smaller than the Snapdragon 400 which can help for thinner and sleeker smartwatch designs. Moving on, the new SoC uses 25 percent lower power than the Snapdragon 400 across both tethered and connected use cases resulting into a longer battery life. Next up, the Snapdragon Wear 2100 comes with an integrated low power sensor hub that enables richer algorithms. Finally, the new SoC will offer next-generation LTE modem with integrated GNSS, along with low power Wi-Fi and Bluetooth.
Highlights of Qualcomm Snapdragon Wear 2100
Quad ARM Cortex A7 up to 800 1.2 GHz
Qualcomm Adreno 304 GPU, OpenGL ES 3.0
Integrated modem DSP shared for modem, GNSS, sensor processing, keyword detection and audio
X5 LTE Modem Global Mode: LTE FDD and TDD, WCDMA (DC-HSDPA, DC-HSUPA), TD-SCDMA, EV-DO and CDMA 1x, GSM/EDGE
WiFi 802.11n (2.4 GHz), NFC, Bluetooth 4.1, Bluetooth Low Energy, USB 2.0
up to 640×480 display at 60fps
LPDDR3 400 MHz memory, eMMC 4.5 storage
Qualcomm® Quick Charge 2.0
Raj Talluri, senior vice president, product management, Qualcomm Technologies, Inc. said in a statement
With the introduction of the Snapdragon Wear platform and Snapdragon Wear 2100 SoC, Qualcomm Technologies is well-positioned to extend its progress in wearables technology by enabling sleek designs, long battery life, smart sensing, and always- connected experiences in the next generation of wearable devices. These benefits are expected to have widespread appeal across the mobile, fashion and sports ecosystems in the wearables space.
LG has teamed up with Qualcomm for the announcement of the Snapdragon Wear 2100 and the company will be releasing new smartwatches and other wearable devices that use the Wear 2100 later this year.
David Yoon, vice president, wearables, LG Electronics said
LG and Qualcomm Technologies have led the wearable technology space with close collaboration over the last two years and have launched multiple smartwatches and kid watches. We are delighted about Qualcomm Technologies' next generation wearable plans, are planning to extend our collaboration with the new Qualcomm Snapdragon Wear 2100 processor, and look forward to launching new smartwatches and other wearable devices that bring new and innovative use cases to consumers later this year.
Qualcomm says the new "Snapdragon Wear platform" is not only suited for smartwatches, but for trackers, sports watches, connected headsets, and more. Snapdragon Wear 2100 and other products within the Snapdragon Wear platform are available today.