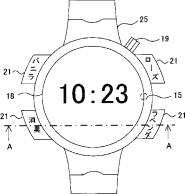 Nikon has pioneered several game changing developments in the camera industry over the years. Now, it seems that it is planning to dip its feet into the smartwatch industry judging by the looks of a new patent filed by them.
The new patent shows a smartwatch with a circular casing and a round display that seems to be just like any other smartwatch in terms of design. However, it isn't just your average smartwatch as it has a neat trick up its sleeve.
The smartwatch can apparently emit fragrances that are housed within a cartridge inside the watch itself. The cartridges should be user replaceable and should come in various smells/flavours. The patent also states that the smartwatch will be able to release the fragrance automatically based on the time or based on the gender or age of the person using face detection. We aren't sure what exactly Nikon plans to achieve using this or for how long a certain cartridge would last a user or even the costs for each cartridge.
But it is an interesting concept and perhaps it could help when you are meeting or greeting people or you know when you get the occasional nature call for example. Nothing else is revealed about the smartwatch but we are definitely intrigued and want to know more. We'll keep you posted on any further developments about the same.