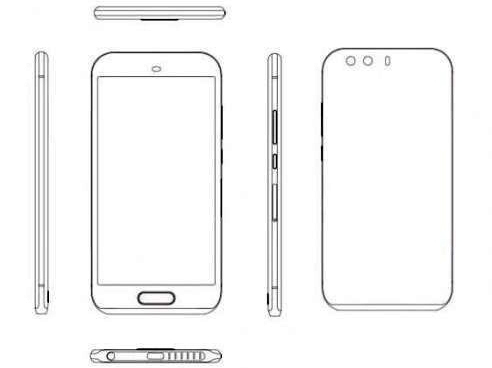 A newly surfaced sketch shows us what is alleged to be the render of the upcoming Huawei P9 smartphone which is the successor to the P8. Judging by the sketch, Huawei seems to be going for a slightly rounder design overall.
The design resembles more of Meizu than Huawei but perhaps that is because this is more of just an outline. Perhaps the device in real would look very much like other devices in the Huawei lineup. Even if it doesn't, it is good to mix up things once in a while especially in terms of design since most companies these days just do minor refinements rather than experiment with completely fresh designs.
It does seem to be quite slim although we aren't sure if it is slimmer than the 6.4 mm of its predecessor, the P8. Interestingly enough, the P9 is shown to have a physical home button as well which could possibly double up as the fingerprint sensor too. Other than that, the P9 is expected to pack a 5.2″ display with an octa-core Kirin 950 processor and 4GB of RAM. Battery capacity is expected to be around 3000 mAH and it will have dual cameras at the back with resolution roughly around 12 Megapixels.