Facebook has revealed that its Messenger app now has more than 800 million monthly active users (MAU). The social network said that Messenger crossed this mark at the end of 2015. In comparison, WhatsApp Messenger has 900 million monthly active users.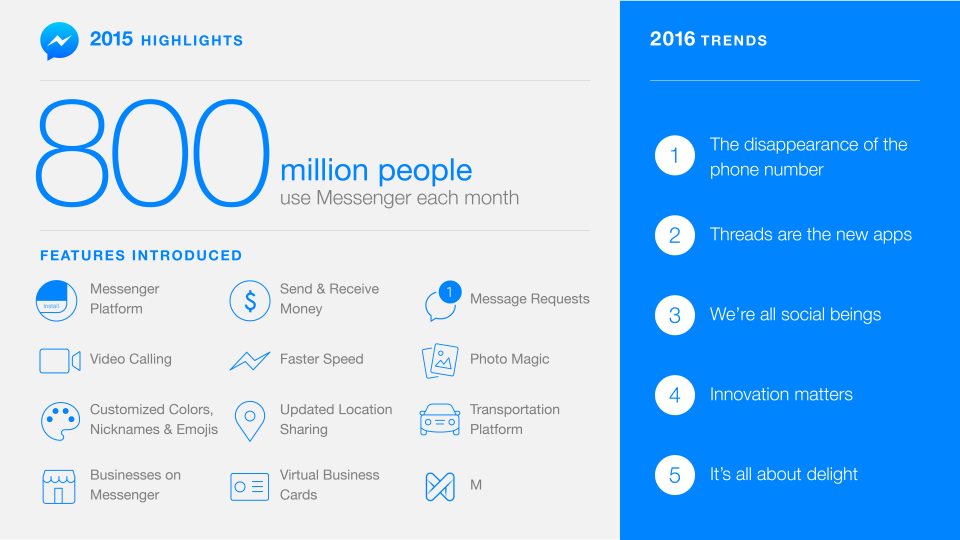 Facebook Messenger's MAU increased from 700 million since last July. The social network has been continuously updating the Messenger platform with a bunch of new features and improvements. Messenger got video calling functionality in April and mobile payment service in July. Last month, it added the ability to assign nicknames and get color coded threads on its platform.Furthermore, Messenger even lets you call a Uber ride right from within the app. It crossed 1 billion downloads for its Android app in June last year.
In March last year, Facebook unveiled Messenger Platform and Businesses on Messenger. The biggest advantage for Messenger has been its positioning as a standalone app. For 2016, Facebook plans to add new features to its platform and is working on new concepts. It had begun testing the digital assistant M that operates through Messenger and is powered by AI. We can expect new changes in 2016 from the platform.