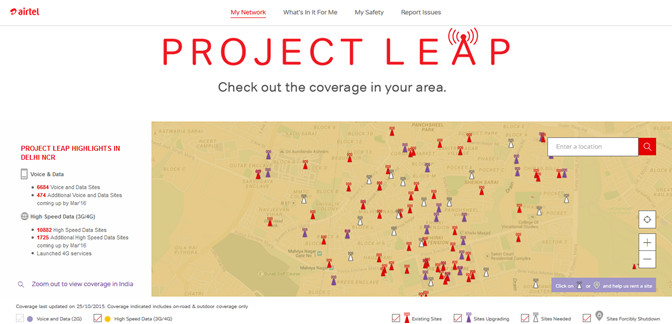 Airtel has launched a microsite airtel.in/leap so that all the customers can see the network coverage for voice, basic data services (2G) and high speed data services (3G/ 4G) in their regions. "It also includes key highlights of Airtel's network transformation exercise at national and state level and the locality map lets you view information on the status of modernization of all the Airtel sites in that locality," said Airtel.
Airtel announced its network transformation program – Project Leap last month, aimed at improving network quality and also said that it will invest Rs. 60,000 crores in the next 3 years. The new microsite will allow customers to get a transparent view of coverage of voice and high-speed broadband services.
Airtel said that customers can also seek help on hosting sites and share the site up gradation plan for every site and see sites that have been forcibly shut down in their locality. Specific sections with information on radio waves, network FAQs and what customers can expect from network transformation program are also featured.
Commenting on the new move, Gopal Vittal, MD & CEO, Bharti Airtel (India and South Asia) said:
With the launch of Project Leap, we at Airtel are investing company-wide resources in ramping up our network infrastructure towards this modernization drive and improving the service experience delivered to every customer. We are happy that the project is making quick strides in enhancing our network quality and are focused on implementing a Project Leap strategy down to each and every location. Our new website is targeted at a first of its kind effort in sharing with total transparency the progress we are making in every street and locality in the country. Our customers will be able to see the progress of their network in their respective localities.