Meru, the radio taxi aggregator has partnered with eCab, the global mobile app by Europe's leading taxi service provider Taxis G7. With this partnership, international travelers can now enjoy Meru Cabs services through their eCab mobile app when travelling to India and vice versa.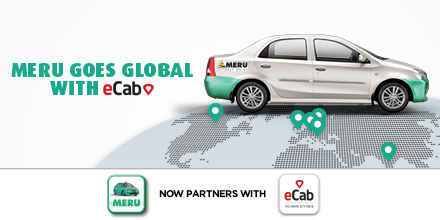 Through this strategic partnership, Meru Cabs and Taxis G7 customers will be able to book cabs through a global network of selected taxi providers. eCab is operational (Currently major cities in France, Belgium, Netherlands, Ireland, Canada. When domestic travelers visit the above countries they can avail eCab partners cab service using eCab App. With this global tie-up, the international travelers will be able to book taxis, track taxis and make cashless payments by using the Meru and eCab mobile App.
We are proud to become the first Indian radio taxi player to forge a global alliance and become a part of eCab alliance, driven by prestigious Taxis G7 which enjoys strong presence across key international markets. With this alliance, Meru Cabs will now extend its array of services to international commuters visiting India through the eCab mobile app".

said Siddhartha Pahwa, CEO, Meru Cabs
Taxi G7 plans to expand and cover 50 cities across nine countries with 40,000 taxis by December. The service will begin in six cities, including Delhi, Bombay and Bangalore, and will be expanded to the 23 cities where Meru operates in India. Founded in 2007, Meru is currently present in 23 cities here with a fleet size of 20,000 taxis while eCab, incubated by Taxis G7, has a fleet of 13,000 affiliated taxis. It competes with Uber and Ola.
MERU GOES GLOBAL
We're thrilled to partner with @eCabFrance, the global app by Europe's leading cab service @TAXISG7 pic.twitter.com/B700WKHsBz

— Meru Cabs (@MeruCabs) October 21, 2015