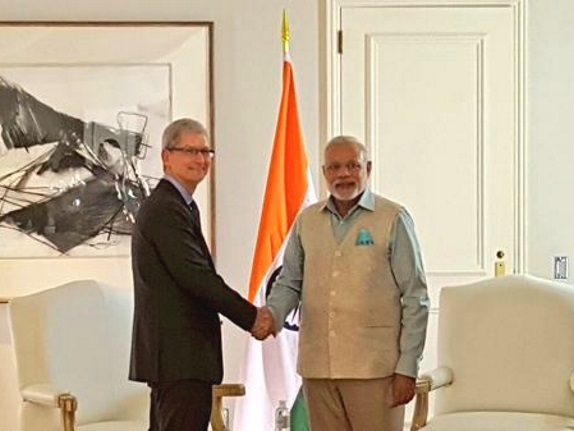 Apple CEO Tim Cook response to set up manufacturing unit in India is positive, said Ministry of External Affairs spokesperson Vikas Swarup after the Prime Minister meeting with Tim Cook in San Jose, California.
On Tim Cook's invitation for a meeting, Prime Minister Narendra Modi visited Hotel Fairmont on Sunday where both had a 15-minute interaction. According to Swarup's (@MEAIndia) tweets about the meeting, Apple CEO mentioned that company shares a unique bond with India as Steve Jobs had visited the country for inspiration.
"We have a unique tie with India. Our founder Steve Jobs went to India for inspiration. Apple CEO @tim_cook tells PM," the @MEAIndia tweet reads.
[HTML1]
Addressing media after the meeting, Swarup told reporters (via PTI) that "the Prime Minister said he would like Apple to start manufacturing in India. He mentioned the huge opportunities India offered."
While the exact details of interaction are still not known, Swarup added that the Tim Cook's response to Modi's offer was positive and he has also shown interest in App development economy to promote entrepreneurship.
"Cook responded positively. I think India does fits into his long term plans. He particularly was interested in the whole App development economy, which he said could be a very very important factor for entrepreneurship where individual app developers can just become part of the app universe," Swarup added.
Story Image Credit: Twitter.com/@MEAIndia