Apple has become the second largest wearable maker in the world, according to a latest report from IDC. The company sold 3.6 million Apple Watches in the second quarter of 2015 just 0.8 million units behind Fitbit which maintained the top spot with 4.4 million units.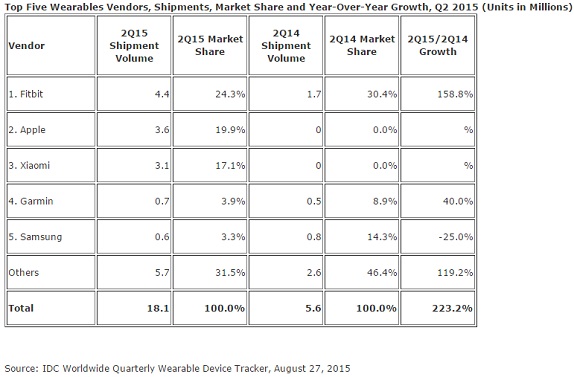 It is impressive to see Apple hit the charts considering the Apple smartwatch only went on sale in March. According to IDC, total shipment volume of the wearables for quarter Q2 2015, came to 18.1 million units, up 223.2% from the 5.6 million units shipped in Q2 2014. IDC expects Apple to dominate the wearables space and eventually eclipse Fitbit as the market leader. The research firm also predicted that over the next five years, basic wearables will lose market share. According to IDC, Fitbit experienced triple-digit year-over-year global growth in units shipped and new partnerships, and increased its brand awareness.
Apple's arrival had the greatest impact on the smart wearables category, or those devices capable of running third party applications. "About two of every three smart wearables shipped this quarter was an Apple Watch. Apple has clearly garnered an impressive lead in this space and its dominance is expected to continue. And, although Fitbit outshipped Apple, it's worth noting that Fitbit only sells basic wearables – a category that is expected to lose share over the next few years, leaving Apple poised to become the next market leader for all wearables."

said Jitesh Ubrani, Senior Research Aanalyst for IDC Mobile Device Trackers.
Xioami came in third by shipping 3.1 million units of the basic wearable in Q2, 2015 with a market share of 17.1%. Garmin and Samsung came in fourth and fifth.