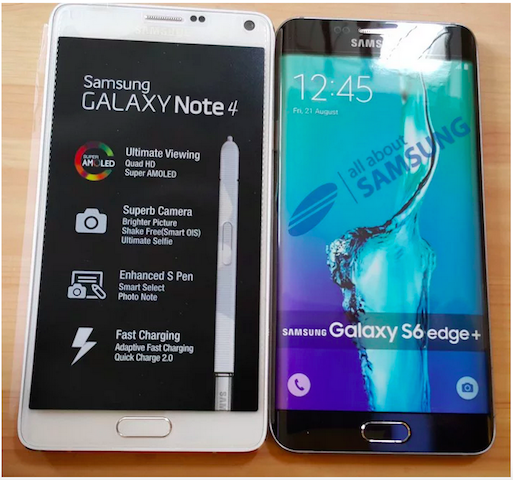 Samsung Galaxy S6 Edge Plus is rumored to launch alongside the Note 5 either during IFA or perhaps earlier, sometime in August. Now, a dummy version of the S6 Edge Plus has appeared online in photos and even gets compared to the Note 4.
The size of the S6 Edge Plus and Note 4 seem to be quite similar especially in terms of height. However, the S6 Edge Plus seems to be a bit narrower and ever so slightly shorter. It also appears to be quite slimmer than the Note 4.

There isn't any major difference compared to the regular S6 Edge other than the increase in screen and physical size. The S6 Edge Plus is expected to pack a 5.7 inch 1440p with Exynos 7420/Snapdragon 808 processor along with 3GB of RAM.
The rest of the specifications will remain the same as the S6 Edge. The Plus variant won't have the stylus that the Note 5 will have either. Whatever it is, since this dummy unit confirms the existence of the S6 Edge Plus, all that is remaining is for Samsung to announce it. We will keep you updated on any further information that surfaces regarding the handset.