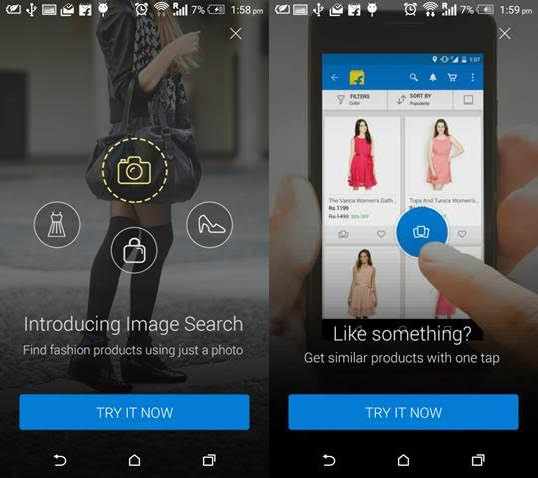 Flipkart has introduced its new Image Search feature for its apps. This is uniquely designed for Flipkart's fashion category and will allow you to search for visually similar products on Flipkart just by uploading a photo. This will let you find fashion products of same color, pattern or style on Flipkart, said the company.
You can also browse a range of similar products by tapping directly on the product. This will save time and also helps you to find exact dress you are looking for easily, instead of usual step-by-step navigation. The company said that it plans to use the in-built features such as camera and bring an offline-like experience with just a few clicks.
The Image Search feature is currently in beta and will be available soon through an app update. The company plans to introduce more such innovative features in the coming months.
Regarding the new feature, Flipkart's Chief Product Officer Punit Soni, said:
Discovering a fashion product online varies from user to user and is more complex as compared to other categories. A lot of fashion purchase decisions are influenced by similar products seen by users. The image search feature provides a way to find similar products on Flipkart as well as reduces the search/ browsing time, making the overall product discovery and shopping experience simple.

This is in line with our ambition to create a very intuitive thoughtful mobile experience that is universally accessible to everybody, regardless of whether they use text or visuals to communicate with us.