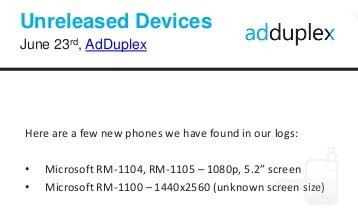 In April, we brought to you news about the Lumia 940 and the 940 XL. The Lumia 940 is expected to have a 5.2″ screen while the 940 XL is expected to pack a larger 5.7″ screen. An ad network has apparently listed two devices with model numbers RM-1104/1105 and RM-1100 which fall right into place with the two rumoured 940 phones.
It is most likely that the larger 5.7″ screen device with 2560×1440 pixels resolution is the Lumia 940 XL and the smaller device with 5.2″ screen with 1080p resolution is the Lumia 940. Microsoft have been hard at work to launch two flagship grade products to compete with Android and iOS handsets for quite sometime.
The 940 XL would sort of be the replacement for the Lumia 1520 which is a 6 inch device. 5.7″ is big enough for most phablet users and is definitely easier to handle than a 6″ device. So the change to a smaller screen does make sense especially if they've managed to trim down the bezel size as well.
Apart from that, both the devices are rumoured to pack a new 24-25 Megapixel Pureview camera sensor with OIS. Knowing Microsoft's/Nokia's history with cameras, it is likely that these two devices will pack some of the best camera features and image quality into them.
Although Microsoft have promised the upgrade to Windows 10 for most handsets running Windows 8.1, the Lumia 940 and 940 XL will be the first ones to ship with Windows 10 out of the box.