According to the International Data Corporation (IDC) Worldwide Quarterly Wearable Device Tracker, vendors shipped a total of 11.4 million wearables in 1Q15, a 200% increase from the 3.8 million wearables shipped in Q1, 2014. This is wearable market's eighth consecutive quarter of steady growth in the first quarter of 2015 (1Q15).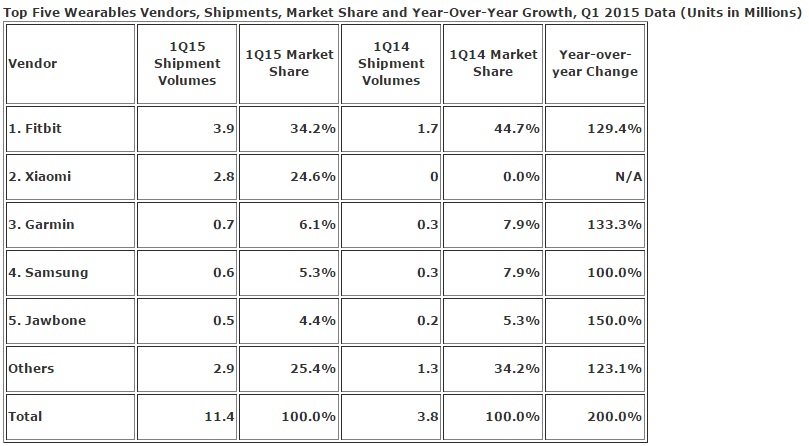 "As with any young market, price erosion has been quite drastic. We now see over 40% of the devices priced under $100, and that's one reason why the top 5 vendors have been able to grow their dominance from two thirds of the market in the first quarter of last year to three quarters this quarter. Despite this price erosion, Apple's entrance with a product priced at the high end of the spectrum will test consumers' willingness to pay a premium for a brand or product that is the center of attention."

said Jitesh Ubrani, senior research analyst, Worldwide Mobile Device Trackers
Giving insights about wearable vendors, the report states Fitbit was the leader with 34.2% market share as it shipped 3.9 million units. Its first quarter shipments were driven by the release of three new devices (the Charge, Charge HR, and the Surge) along with continued demand for its older Flex wristband and One and Zip clip-on models. Xiaomi took the second spot with 2.8 million units shipped in Q1 2015 and a market share of 24.6 percent. The Chinese company's Mi Band crossed one million unit mark. Garmin and Samsung came in third and fourth with 6.1% and 5.3% respectively. Samsung currently makes six smartwatches out of which only the Gear Live uses Android Wear while other run on Tizen. Jawbone beat Pebble and Sony for fifth place with 4.4% market share.
"Bucking the post-holiday decline normally associated with the first quarter is a strong sign for the wearables market. It demonstrates growing end-user interest and the vendors' ability to deliver a diversity of devices and experiences. In addition, demand from emerging markets is on the rise and vendors are eager to meet these new opportunities. What remains to be seen is how Apple's arrival will change the landscape," added Llamas. "The Apple Watch will likely become the device that other wearables will be measured against, fairly or not. This will force the competition to up their game in order to stay on the leading edge of the market."

said Ramon Llamas, research manager, Wearables.