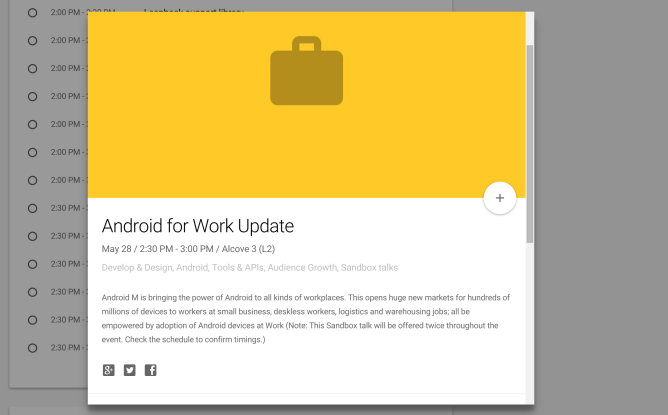 The official schedule for Google's I/O is now live and under one of the events scheduled for Android for Work, there was a mention of Android M. This could mean that Google might be announcing Android M at I/O between 28th and 29th of May.
As you can see from the screenshot, an event scheduled between 2:30pm and 3:00pm on the 28th of May for Android for Work states "Android M is bringing the power of Android to all kinds of workplaces."
But since then, Google has taken down the session from the schedule. This either means that they accidentally leaked the details and the removal confirms that it exists. Or it could mean that Google was just teasing users and playing a prank of sorts.
If it is true, then we guess it's time to start guessing what the next version of Android will be called. Version 5.0 was initially called Android L with L being sort of a placeholder and Google opting to call it Lollipop eventually. Perhaps Google will follow the same method with Android M as well. Even if Google does announce it at I/O, it will be interesting to see what changes and improvements it will bring over Lollipop.