Indian mobile handset market declined 15% in terms of overall shipments in Q1, 2015, as per a latest report from CMR. The report said that out of the total 53 million mobile handsets shipped during the quarter, 37% (19.5 mn) were smartphones.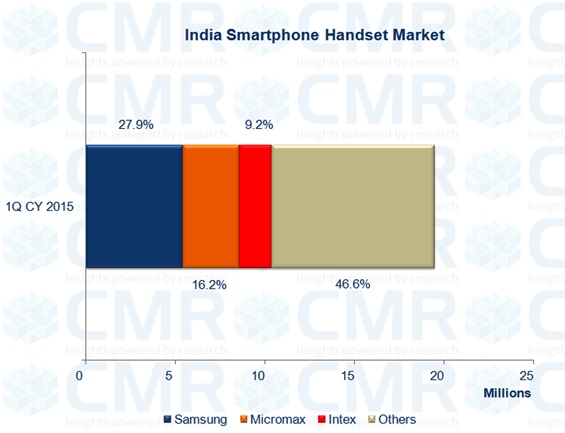 Smartphone shipments declined 7% quarter-on-quarter as compared to over 18% in the case of the feature phones segment. Samsung maintained the lead in not only feature phone market but also in the smartphone market at 27.9%, up from 23.7% in Q4 2014. Micromax came in second spot with a decline to 12.1% in terms overall mobile handset shipments. The homegrown smartphone maker reported a market share of 16.2% as compared to 17.8% in Q4, 2014.
In Q4, 2014, Micromax was just behind by 1.2% compared to Samsung in the overall mobile handsets market and in the smartphones segment the gap was 5.9%, in Q1, 2015, these gaps have increased to 6.4% and 11.7%, respectively. The significant gap in market shares in the smartphones segment is the most critical issue for Micromax to address in the coming quarters. One of the reasons for increasing gaps could be the fact that Micromax has launched fewer models in the past year and is focusing more on marketing campaigns such as online sales and the Yureka sub-brand. Moving on, Intex came at third spot during Q4 2014 with a 9.2% market share in Q1, 2015, an increase of 1.3%.
"While seasonality had its play in this quarter, some players also need to revisit their strategies and perhaps not rely very heavily on online sales. e-Retailing works effectively for a brand aiming for 0-5% or 5-10% of the market share and those without a wide portfolio like Xiaomi and OnePlus. But, if you are Micromax, having a double-digit market share of middle to higher order price segment handsets, trying to replicate what Xiaomi and OnePlus are doing isn't a very good idea. At the same time one has to look at the segment contribution. While Xiaomi, OnePlus and other emerging brands are 'Smartphone only' brands, Micromax still gets around half its contribution from feature phones."

said Karn Chauhan, Telecoms Analyst at CMR.