Lollipop adoption continues to surge every month with more and more smartphone makers rolling out the latest OS to their devices. Today fresh numbers from Android distribution chart are saying that Lollipop is present on 9% of Android devices as per 7-day period ending on May 4th, 2015.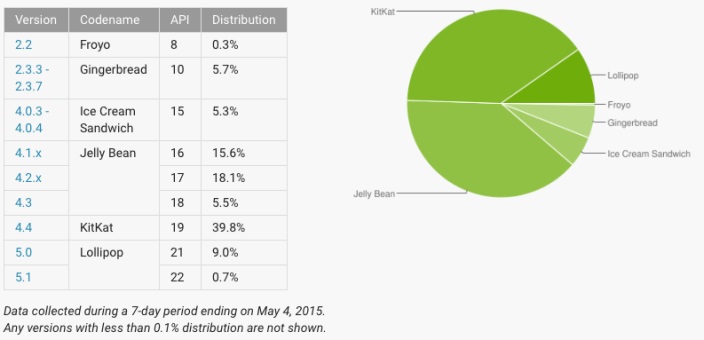 The Lollipop adoption has nearly doubled as it was 5.4% last month. Google's latest Android OS was present on mere 1.6% of devices in February and 3.3% in March. KitKat is still at the top with 41.4 percent, down from 39.8 percent last month. Jelly Bean continued the slide from 40.7 percent to 39.3 percent, Ice Cream Sandwich fell to 5.3 percent, and Gingerbread declined to 5.7 percent. Froyo is present on mere .3 percent of the android devices.
Launch of flagship phones from Samsung (Galaxy S6, Galaxy S6 Edge), HTC (One M9) will further increase Lollipop's share in the Android market.