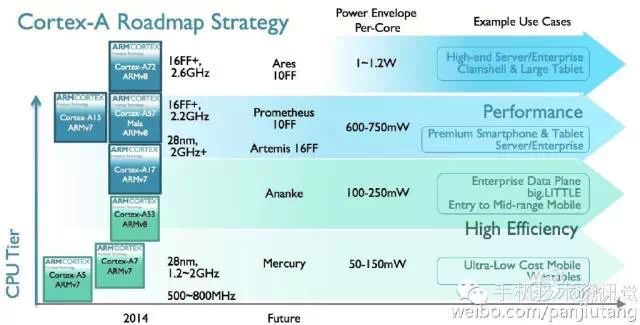 ARMs designs for the 10nm and 16nm FinFET Cortex have been leaked in a new roadmap. ARM is planning to introduce 5 new CPU cores for the 10nm and 16nm processes.
According to the leaked roadmap, ARMs Cortex A72 will be replaced by Ares which has a 10nm design (1-1.2W per core). It is designed primarily for large tablets and server/enterprise markets. The Cortex A57 will be replaced by Prometheus which also has a 10nm design (600-750mW per core) and will be used for tablets and flagship smartphones.
Coming into the mid range segment, Artemis 16nm (600-750mW per core) which has the same power envelope as the Prometheus will replace part of the A57 and A17 segments. Next up is Ananke (100-250 mW) which will replace the 32bit A17 and part of A53 segments. This will also be used in mid range devices with big.LITTLE support. Finally you have Mercury (50-150mW) will be used in wearables and ultra-low cost phones. It will replace certain A53 parts along with the 32bit A7 and A5 cores. The roadmap doesn't specify the node for which the Mercury and Ananke are made for.
The roadmap doesn't specify when ARM plan to make the new designs online but we expect the Artemis to be the first to launch.