Microsoft launched the Office Lens app for Windows Phone last year in March. Today, the company is bringing its document scanning app to Android and iOS platform.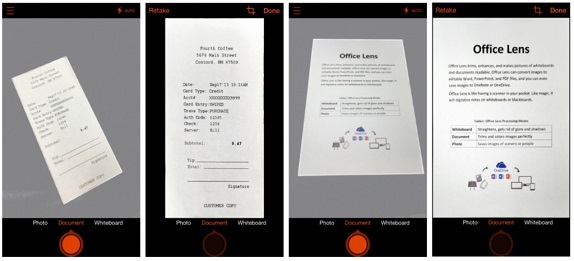 Office Lens allows users to convert photos of paper documents into Jpeg, Word, PowerPoint and PDF files. The app even allows users to take photos of receipts, business cards, whiteboards, sticky notes and save them to OneNote app. It can also capture business cards and generate contacts you can add to the phone. The captured photos can be cropped, rotated, resized and enhanced before sending to OneNote or OneDrive. It also enables users to search for key words in the images via optical character recognition.
httpv://www.youtube.com/watch?v=jzZ3WVhgi5w
The app uses OneNote's cloud-based optical character-recognition (OCR) software and the new OneNote Service API to make it a editable text. Office inserts images to OneNote or OneDrive (as DOCX, PPTX, JPG or PDF format) and gives you options to save, export, and share the image.