Google has unveiled bunch of products that include cheap Chromebooks, a convertible Chromebook Flip and a Chromebit dongle. The Haier Chromebook 11 and Haier Chromebook 11 are priced at $149.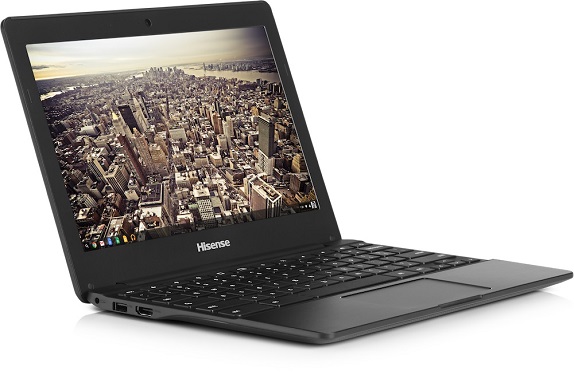 Both the Chromebooks feature a 11.6-inch HD display and are powered by Rockchip RK3288 Cortex-A17 quad-core processor, 2GB of RAM, 16GB SSD. Other specifications of these Chromebooks include Wi-Fi, Bluetooth 4.0, two USB ports, one HDMI port, stereo speakers and microSD card slot. The Haier Chromebook weighs in at 2.54 lbs and the Hisense one at 3.3 lbs. Connectivity options on the Chromebooks include dual-band 802.11 2×2 (MIMO) a/b/g/n/ac Wi-Fi and Bluetooth 4.0.
httpv://www.youtube.com/watch?v=lHjNxscOY_M
The Hisense Chromebook will offer about 8.5 hours of battery life and the white Haier Chromebook 11 promises 10 hours of battery life. These will also be the first Chromebooks that run certain Android apps like Viber, VLC Media Player, Vine, and DuoLingo straight from the desktop. The Hisense Chromebook and the Haier Chromebook 11 are available at Walmart.com and Amazon respectively.
Moving on, Google has also announced Asus Chromebook Flip for $249 that is all-metal convertible allowing you to flip the screen behind and go from laptop to tablet mode. It has a 10.1 inches and is powered by ARM-based chipset — the Rockchip 3288 that is based on the quad-core Cortex-A17 architecture and runs at up to 1.8GHz. It has 2GB or 4GB of RAM and a 16GB hard drive 15mm thin and weighing less than two pounds.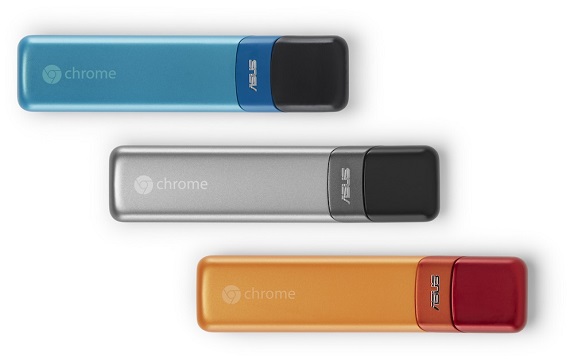 Finally, Google has also launched Asus Chromebit dongle that Google said will provide a full Chrome computer experience for under $100. The Chromebit has 2GB of memory and 16GB of storage similar to any Chromebook.