Apple's CEO Tim Cook took to the stage to announce that latest version of the iOS will be seeding today and the update is now available across the globe for all the compatible Apple devices.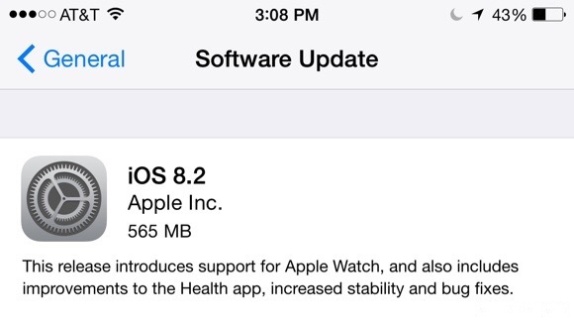 The newest version of the iOS is a minor update that brings support for the Apple Watch. The iOS 8.2 comes with a dedicated application using which you can access the company's smartwatch.
Apple has also bundled a brand new activity application which allows you to view your fitness data that is captured by the Apple Watch. This functionality is however available only for iPhone 5 and later models.
The update also improves the health application in the iOS and you now get to change various measurement units. Furthermore, the app gives you the ability to visualize workout sessions from other non-Apple fitness applications.
iOS 8.2 enhances Apple mail, maps and music among other built-in applications. Apple iOS 8.2 update is about 565MB, but it varies from device to device.
If you happen to have an Apple device, then head on you settings > general > software update and get your device on the latest version of iOS.