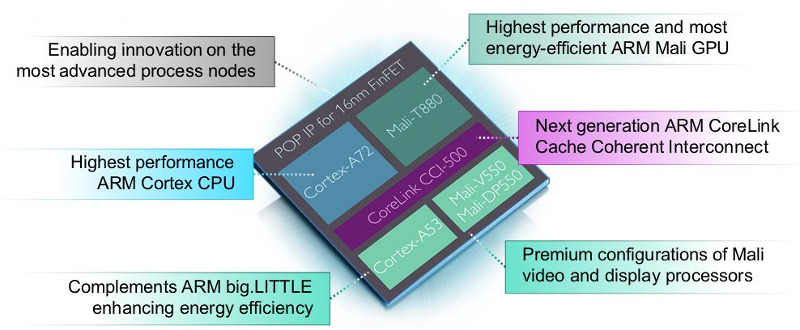 ARM today announced Cortex A72 processor in the A70 series based on ARMv8 architecture. It has 64-bit processing technology and is fully compatible with the extensive ARM 32-bit ARMv7 ecosystem, similar to the A50 series. It offers three and a half times the performance of Cortex-A15 based devices and is also highly power efficient, says the company. It is mainly targeted at premium smartphones to large and mid-size tablets.
ARM also introduced CoreLink CCI-500 Cache Coherent Interconnect that enables big.LITTLE heterogeneous processing and has integrated snoop filter for system power saving. This would offer more responsive user interfaces and accelerates memory intensive workloads such as productivity applications, video editing and multi-tasking. It also announced Mali-T880 GPU that is said to offer 1.8 times more performance and 40% more energy efficiency when compared to Mali-T760 GPU-based devices.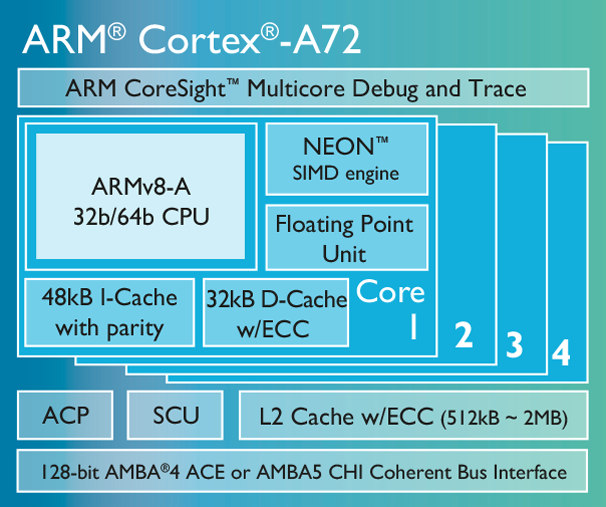 Since the Cortex A72 has big.LITTLE heterogeneous processing support with CoreLink CCI-500 , it can be used with the Cortex-A53 processor to increase the performance and efficiency further. It is optimized for the 16nm FinFET process technology, enabling the Cortex-A72 to clock up to 2.5GHz, compared to  28 and 20nm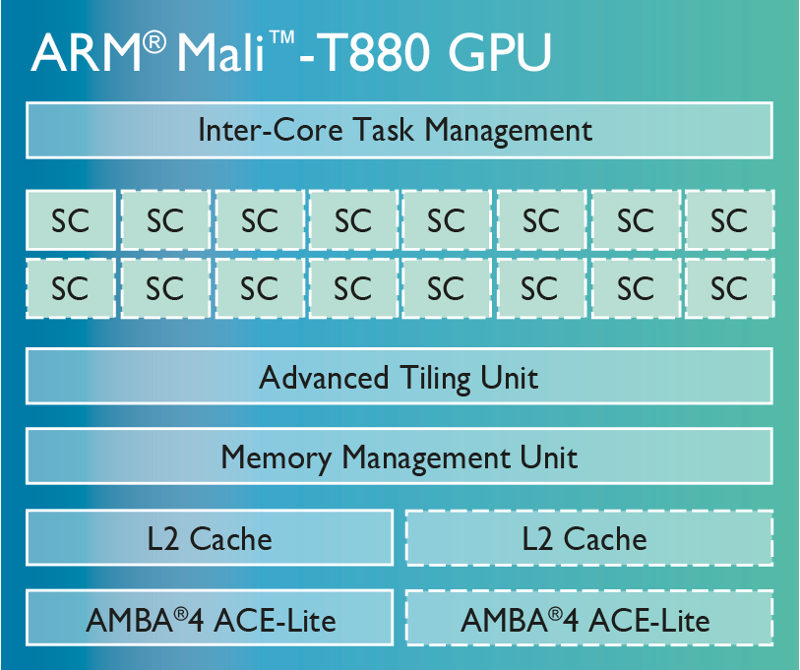 Highlights of Mali T880 GPU
Full support for next-generation and legacy2D/3D graphics applications including OpenGL ES 3.1/2.0/1.1  OpenCL 1.1/1.2, DirectX11 FL11_2 and RenderScript
Hardware implemented Full Scene Multiple Sample Anti-Aliasing with 4x, 8x and 16xMSAA
Frequency 850MHz in 16nm (16 FinFET)
ARM  Mali-DP550 display processor and and Mali-V550 video processor with full support for HEVC
 Scalability up to 4K120 with its full eight cores
More than ten partners, including HiSilicon, MediaTek and Rockchip, have already licensed the Cortex-A72 processor. It is expected in mobile devices in 2016.