Samsung has been working on a new wearable health sensor for the past two years. The engineers at Samsung's C-Labs have announced that they are working on a wearable that has the ability to detect strokes in the wearer.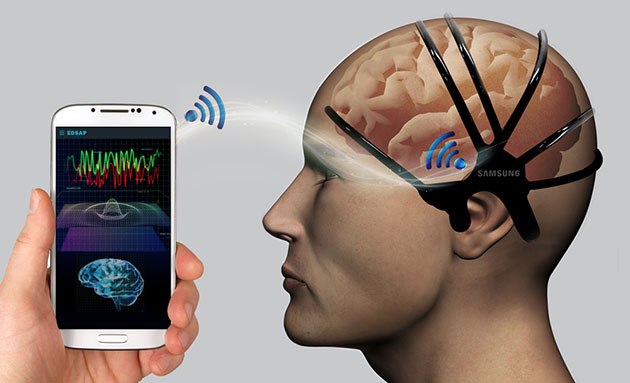 The sensor called as Early Detection Sensor and Algorithm Package (EDSAP), monitors brain waves and give the wearer information to track potential strokes. The device is a headset that the user wears, as you can see in the image above, and through the monitoring of brainwaves combined with an algorithm, it will be able to detect whether the user is at risk at stroking and whether they should consult a doctor or receive immediate help.
"We approached neurologists, asking them whether this was feasible. They were dismissive, but we wanted to give it a go. Health-related wearable devices are becoming more and more complex, meaning their capabilities are growing increasingly sophisticated. The five of us wanted to make our mark in this development."

said Se-hoon Lim, the project lead.
EDSAP's sensors are placed on a headset, collecting and wirelessly transmitting brainwave data to a mobile app, where the algorithm analyzes the brainwaves and ultimately determines the likelihood of a stroke, all within a 60-second time span. Additionally, by tracking brainwaves for longer durations, EDSAP can leverage its brainwave analysis capabilities to provide additional information related to neurological health, such as stress, anxiety and sleep patterns.
These Samsung engineers have put forth the possibility of developing this tech to monitor a person's heart as well. Brain waves are very faint compared to the electric signals of the heart, and if the sensors are capable of picking up brain waves, then heart monitoring should be within its capabilities as well. At present the device is in only a prototype phase and it is not known when will it be launched.