Microsoft has updated Skype for iPhone with an array of new features. The version 5.9 brings several improvements for the user interface, particularly to the dial pad and new chat picker.
The latest enhancements are aimed at making conversations easy and quick. Skype adds contact suggestions to the dial pad when entering a number making the process of finding the right person to dial quicker. The update also adds shortcuts for starting video or audio calls from Skype's chat picker window. By tapping the message icon on the bottom navigation bar, the chat picker will open and users can easily start a conversation when you are in the recents, favorites, or people view.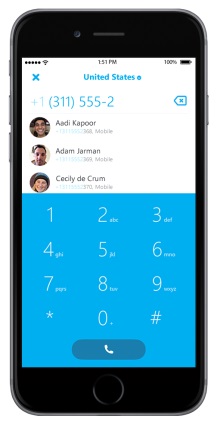 Skype 5.9 for iPhone also debuts the pre-release program for iOS, through which you can provide feedback and get access to early versions of the app. Users who are interested in the program will have to sign up, provided they agree to update the company with "regular feedback" as each update is rolled out to them. Applicants must also be 18 years or older with a valid email address and Skype or Microsoft account.
Skype for iPhone was had been optimized last year for bigger screens on  iPhone 6 and iPhone 6 Plus. It also received a photo saving feature in October.