Toshiba has launched first of its kind TransferJet adapter for iDevices such as iPhone, iPad and iPod, which fulfills the gadget's close proximity wireless transfer technology.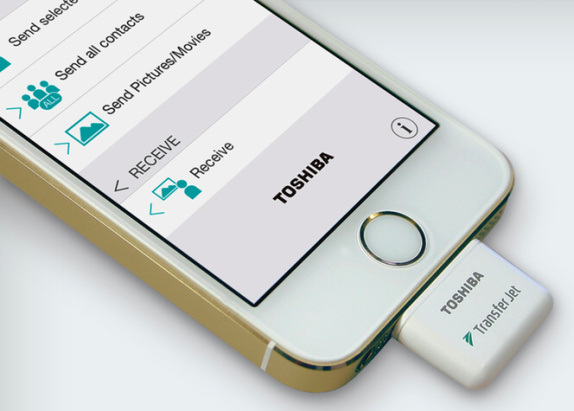 If you are wondering what TransferJet is all about – well, it's a device built on the TransferJet Consortium, which is a technology that provides simple connections and ultra-high speed data transfers with low power consumption.
You can transfer data, movies and pictures without any hassle by simply brining the two devices in close proximity. Toshiba claims the maximum data throughput to be 375Mbps, which means that you can transfer about 100MB of data in just about three seconds.
If you happen to have an iDevice, you can use the TransfeJet by attaching the adapter to your iPhone, iPad or iPad with a lightning connector and by downloading the dedicated iOS application. The TranferJet is compatible with iOS 7.1 and above versions of the mobile operating system.
Toshiba's TransferJet will go on sale starting from spring 2015 in Japan and will reach Europe, the Americas and Asia soon after.
Meanwhile, Toshiba will be show casing its new TransferJet adapters at the on-going Consumer Electronics Show in Las Vegas and if you are around, make sure you visit their booth and check out the cool new gadget for iDevices.