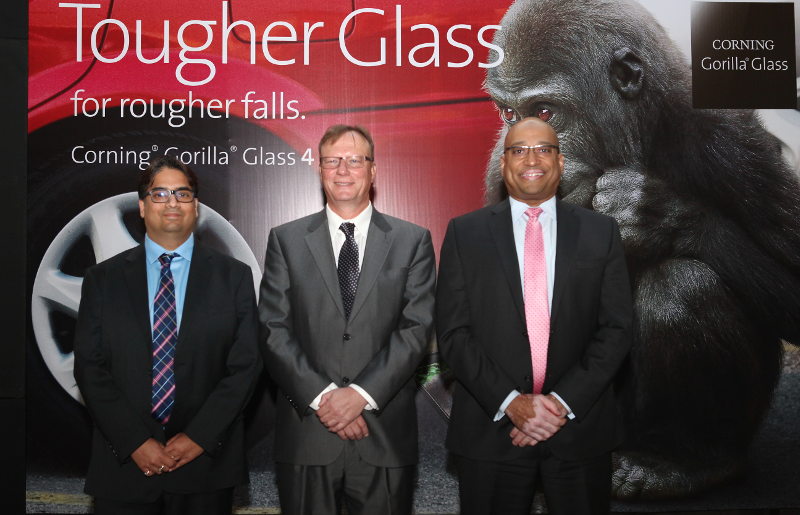 Corning announced the Gorilla Glass 4 in November and it recently confirmed that both the Samsung Galaxy Alpha and Galaxy Note 4 smartphones have Gorilla Glass 4 protection. Today Corning has introduced the Gorilla Glass 4 in India, aiming to tap into the rapidly growing consumer electronic market in India.
It is manufactured using Corning's proprietary fusion draw process and maintains the thinness, durability and optical clarity for which Gorilla Glass is known, while drastically improving drop performance. Corning says that the Gorilla Glass 4 has been tested for performance when subjected to sharp contact damage, such as asphalt and other real-world surfaces.
Highlights of Corning Gorilla Glass 4
Enhanced retained strength after use
High resistance to scratch and sharp contact damage
Improved drop performance
Superior surface quality
Available thicknesses – 0.4 mm – 2.0 mm
Speaking about the launch, Amit Bansal, president, Corning Technologies, India, said,
We see significant potential for Gorilla® Glass 4 in India and are frequently speaking to Indian OEMs to understand their requirements. It is one of the fastest growing consumer electronics markets in the world and it therefore makes perfect sense to equip manufactures here with the very best in cover glass technology.
Product sampling and shipment for Gorilla Glass 4 are under way with Corning's global customers, said the company.